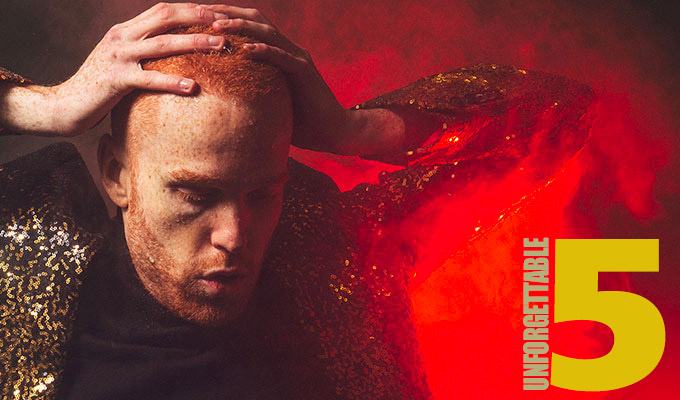 'We were hoping a relative would die so we could pull the show'
First gig
The first gig we ever did was an hour long. Oh, Icarus.
Traditionally, you build up a five-minute set, then a 10, then a 20, then cross your fingers a relative dies so you've got something to tie it all together into an hour for Edinburgh.
After five minutes we realised why people did it this way. By 20 minutes we were crossing our fingers a relative died just so we could pull the show.
The premise was that the first half of the show used the exact same script as the second half, but in a new (baffling) order. It was a mad mix of intricate, bomb-disposal-level meticulousness and utter, utter insanity. Like when a detective in a late-night thriller suddenly notices a cryptic pattern in the smears on an escaped inmate's cell wall.
Lots of friends came, excited to see us trying comedy. Few have returned. Some won't even see us socially.
Best gig
Comedy is an industry rife with nepotism. This is obviously ideal, but it's just a shame that our parents are in internet publishing and counter-terrorism. The only way we were ever going to get a gig was to nepotise ourselves: start our own gig and book ourselves onto it over and over and over again. The perfect heist.
The one that stands out the most was the second ever one, January 2015, where we had James Acaster, The Pajama Men and Tash Demetriou and Ellie White. We also did a set, surfing the goodwill generated by those amazing acts, and the post-show curry with Gein's, who we run it with, was an absolute grin-fest.
Worst gig
A fair few candidates here. Unsurprising for an act who once did an hour long show about David Schwimmer trying to work out who graffitied his car.
A gig bombing to silence in Richmond we can accept, a late-July preview running at 25 minutes to baffled extended family members is fine, even doing a gig in a boxing ring in an alleyway in Tottenham to white people with dreadlocks (who were pretty damn judgemental for a bunch of hippies) is water off a duck's back.
It's when we really want the gig to go well that we're gutted...
One that stands out was Machynlleth 2016. Widely, and correctly, seen as the high water mark of the comedy calendar, it's the one gig in the year that you get to have fun onstage and get rewarded for doing so. We were in the Owain Glyndr centre. This weird combination of letters seemed utterly unique to us, so we typed it into the satnav and off we headed.
What we hadn't realised is that it's normal for Welsh words to look this weird, and that in fact there were several Owain Glyndr centres in Wales. We arrived at the wrong, misleadingly similarly idyllic Welsh village and realised our mistake too late.
We rushed to Machynlleth, arriving 25 minutes into our set. We set up our musicians, who were to be revealed at the half-hour mark in the show, did a hurried sound check and started 40 minutes late. After 20 minutes, we had to end the show. It was breathless and baffling. But worse for our two band members who had driven all that way to be hidden behind a curtain, never to be revealed. Absolutely gutting.
Gig that changed my life
Sketchfest, May 4 2014. Sketchfest was a really ambitious, mad project that aimed to put sketch back on the map. It was run by two of the most benevolent madmen we've ever met: Adam and Ofer, who had the sort of crazed fanaticism that made you believe they actually might just revive sketch comedy.
They put on an amazing festival for three or four years, and we were involved in its second year. We had loads of fun at the gig, but the reason that it changed our lives was that it was the last time Gein's Family Giftshop's coat-tails were ever to be in clinging distance, and we took full advantage. We haven't let go since.
Best gig as a punter
The Horne Section, 2010. We went to see this on a slight punt: it was in the Queen Dome (swoon), late at night (yes please), for a very limited run (bit annoying actually).
It blew us away: Mark Watson sang a song about a bouncy castle, Tim Key told a story about Laura Reddoor, the games were amazing and it was that perfect blend of chaos and jokes.
The atmosphere was totally electric and you felt like you were being let in behind the scenes of something truly special.
• Goose: Ctrl+T is at Assembly George Square at 17:20 daily.
Published: 3 Aug 2019
What do you think?