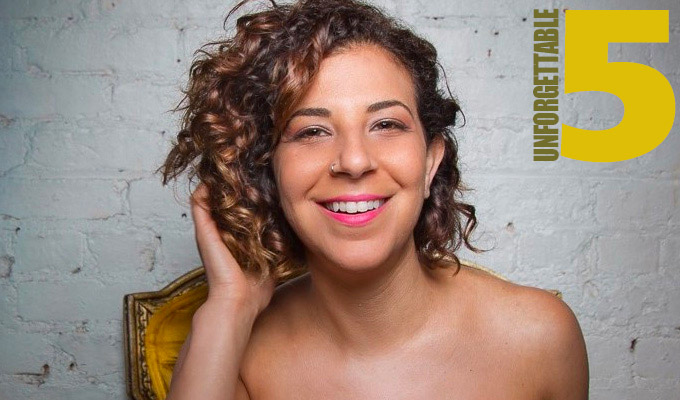 'Why don't you all just boo me? It would be better than this'
First gig
My first gig was in Columbus, Ohio at a campus bar. I had been going and watching the open mic for over a year, and eventually the host who was a friend of mine signed me up against my will, because he knew I wanted to do it.
I went on very late in the line up and late in the night. I'd love to say I got up on stage and killed and discovered my calling, but not the case. I got laughs, I guess, not big ones. But… what's it called when the audience is being nice because you seem so distressed? Pity. I think it was pity laughter.
Worst gig
I was with a group of comedians who took a bus from New York City to Baltimore to do an outdoor festival that was a benefit for Darfur.
We got to the festival, and it wasn't exactly the turnout we were expecting and judging by the size of the venue, I don't think it was what the promoters were expecting either.
I don't know what went wrong, if the festival hadn't been properly promoted or if people in Baltimore had somewhere better to be, but no one was there. There was a huge stage, a whole lot of grass, and no people.
I have a picture of me on this massive stage with no one but the other comedians in the grass. The worst part was they had invited a guy who was from Darfur to speak, and he had to go up on stage and thank everybody (basically the five comedians) for coming.
Gig that changed my life
I was visiting London and did five minutes at Angel Comedy and I invited another comedy booker out to see me. She came, enjoyed my set and then booked me for three weekends at her club which paid for my trip back to London. Through that I was able to book other gigs and made the connections to keep coming back to the UK. And now I live here!
Worst heckle
I was only a year or two into doing stand-up, and I had an audience of about 300 not listening to my set. They were eating and talking amongst themselves and eventually I was like 'Why don't you all just boo me? It would be better than this.'
Then they stopped and it was like someone was counting down for them. 3..2..1… 'BOOOOOOOOO!' The MC came up to the side of the stage and asked me if I wanted to get off, and I said 'No I have 3 minutes left.'
And then they all cheered. I started doing my jokes again, not to laughs, but at least they stopped talking.
Most unusual location
Doing comedy in Los Angeles, you'll often end up gigging at someone's house usually their rooftop/backyard/garage/living room. But the most unusual location was when I was in Stavanger, Norway, we were asked to do comedy in a block of condominiums.
The booker put us all in separate condos, while a group of business execs went from condo to condo to view them for potential accommodation for business trips. So they came into each condo for a viewing and every condo had a soup station and snacks, drinks, and a comedian in the corner by the window going: 'How's everybody doing tonight?'
Maria Shehata: Hero is on at Gilded Balloon at Old Tolbooth Market at 17:15 daily.
Published: 6 Aug 2019
What do you think?