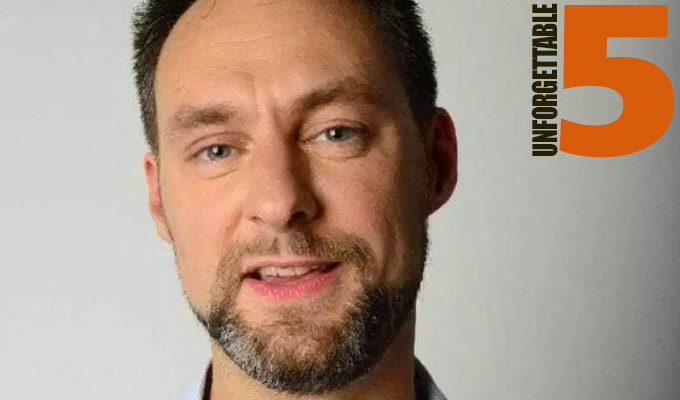 The night that taught me how awful some comedians can be
First gig
My mates were always urging me to do stand-up because they could tell I had deep-rooted psychological issues that would be temporarily ameliorated by prancing around on stage like a tit.
So I did a gong show in Kentish Town. Sanderson Jones MCed, he ran that atheist church thing, remember it? When I started, comedy atheism was all the rage. All these comedians proudly declaiming their godlessness on stage, as if it was a daring angle to take in 2010 and the Spanish Inquisition might drag them from the room and stone them for heresy.
Worst journey to a gig
I slept with my ex-girlfriend this year before I flew out to the Australian festivals. We had a very tempestuous relationship but I loved her deeply.
When we hooked up we were talking about getting back together, but with me about to depart for three months, she broke it off. I had to get on a plane and fly away from her feeling torn up and desolate and ruing every stupid decision and mistake I'd made, knowing she was getting together with some guy with a stable job.
The comedians' lifestyle is very corrosive on relationships as you're always on the road. You have to Sacrifice so much to pursue comedy and prioritise it over everything, including relationships.
You spend a lot of time travelling, punctuated with the visceral high of performing and go crazy, feeling chaos, elation and despair all at once, finding solace in the people you meet on the way.
Oh and another time David Tsonos ate a packet of crisps in my brand new, bright red, just valeted Audi, then stuffed a sandwich wrapper into the door pocket, then acted like I was a cunt for telling him to take his rubbish with him. [Editor's note: Tsonos says this isn't true]
Gig that taught me the biggest lesson
A few years ago when I was moving up from open mics to proper gigs, I was desperate to get into a particular club. I went down one night and just hung around waiting to meet the owner.
In the break I got to speak to him, and he pulled his phone out to book me in for a trial spot. One of the comedians who was on that night saw this happen and told the owner he had to start the next section RIGHT NOW, literally dragging him back inside by the arm.
Man, it would've taken like five seconds to book me in. It taught me the valuable lesson that some comedians are total cunts.
Worst gig
A holiday park in Mersea Island, Essex. I say holiday park - you can buy a caravan there for a couple of grand, so the patrons are people who've made terrible mistakes in their life and have now retired there to wait for death.
Anyway, they thought they'd try comedy on a Wednesday. I was booked to open as Pun-Man, a character I did at the time who improvises puns based on what the audience shout out.
Anyway, I died horrifically, prancing in Spandex with my fake eyebrows loosened by flop-sweat, everyone staring at me and HATING me. I think they thought my puns about ISIS ('I've got nothing against Islamic fundamentalists, I just don't like it when they Ramadan my throat') and paedophilia ('I went for a pedicure this morning. Didn't work, I'm still attracted to children') were some sort of literal manifesto of intent.
The middle act, Darius Davies, came on and continued the death spiral. Halfway through his set, they cut his mic and started playing music. He left the stage and the manager came over the Tannoy to announce: 'Ladies and gentlemen, we apologise for tonight, it'll be bingo as usual next Wednesday' and we left through the back door. Got paid though.
Worst heckler
Silent heckles are the worst. Two years ago I was doing my show, I Can Make You Tory, on the Free Fringe which is is unticketed and allowed progressive left-wing people would come in and protest against the show, because left-wing people hate diversity.
One Tuesday I had a couple of fannies in who sat up the back and were pissing about. I could tell they weren't engaged in the show. About 15 minutes in, while I was navigating my way through an explanation of centrally controlled economies and the benefits of nuclear power in front of drunk rugby lads and hen-dos who were clearly hoping for dick jokes, these two fannies up the back started nodding in unison really hard at me.
Nobody could see it apart from me. It did my fucking head in and I called them out on it, and they started being cunty, so I told them to leave. One of them refused to so I jumped off the stage to chuck him out myself (on the Free Fringe you're your own bouncer) and he shit his pants.
Chortle reviewed that actual show and gave me 2.5 stars.
• Leo Kearse appears in Transgressive at the Gilded Balloon Teviot at 9.15pm during the Edinburgh Fringe
Published: 4 Aug 2019
What do you think?