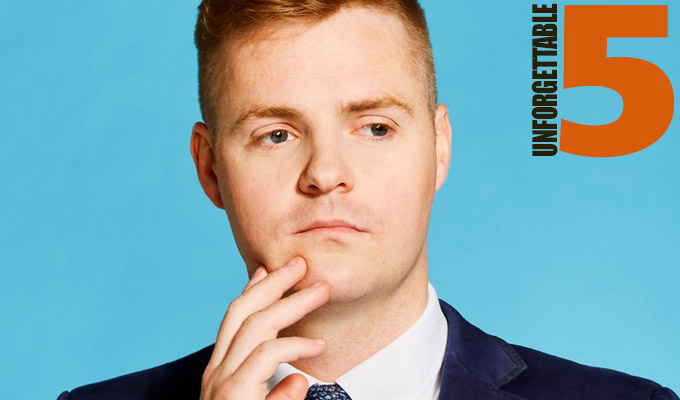 Heckled by editing
Best heckle
I watched back a TV stand-up spot and saw that after one of my punchlines, they cut to a shot of a man in the crowd checking his watch.
It's pretty impressive to be heckled by editing.
Worst gig
The pokies [fruit machine] room out the back of a pub in my home town in country Victoria. Sunday afternoon. The vibe was whatever the opposite of electric is. Acoustic, I guess? The vibe was acoustic.
My friend Michael Williams and I had been booked to tell jokes to a handful of unsuspecting gambling addicts. I distinctly remember delivering a punchline to absolute silence, then clearly hearing the sound of someone at the back of the room letting out a burp.
I was supposed to do 20 minutes. I did five.
Strangest audience member
During a routine in which I bemoaned the prolonged lifespans of Baby Boomers and explained that I'm waiting for my parents to die so I can buy a house, a woman in her 60s stood up from her seat and started crawling up the middle aisle, pretending to be ashamed that I was her son.
Everyone assumed it was my mum.
It was not my mum. It was just some lady.
Worst heckler
A drunken girl sitting in the front row was talking and calling out so much that I had to ask her to leave.
Unfortunately, she had a broken her leg and was on crutches.
The entire crowd watched as the front of house staff ushered her out of the long room, her limping up the middle aisle, me just watching her go, feeling like a top-shelf arsehole.
Fun fact: this was at the same show as the crazy mum-pretending lady (see above).
Most interesting post-show feedback
After a show in a regional Australia town in which I did material about being a homosexual, a man came up to me and said, 'Look, I'm not gay…but good on you.'
It was as if he thought the point of my act is to magically turn men like him gay! (Which it is.)
• Tom Ballard: Enough is on at Monkey Barrel Comedy at 9pm during the Edinburgh Fringe
Published: 11 Aug 2019
What do you think?