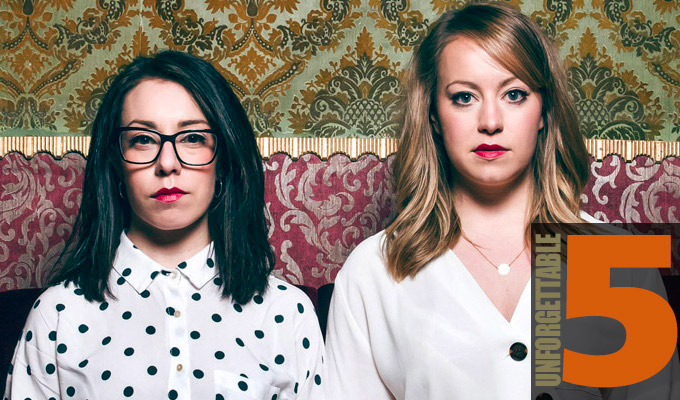 'It was like dying and watching your own funeral'
First gig
We started doing Flo & Joan when we were living in Toronto a couple of years ago. We thought we'd give it a go there because we didn't know anybody, so if we were rubbish none of the Canadians would remember or care about it, and no one back home in the UK would find out.
We played to maybe 15 people in a little black box theatre, the John Candy Box Theatre, and we did a sketch, a spoken word/poem called Jane, which we still perform, and a song called Stay Indoors. Two thirds were not a disaster, so we pied off the sketch and kept going.
Best gig
The first night of our run at Soho Theatre doing our show The Kindness Of Stranglers' is definitely up there. Doing a show at Soho Theatre was a goal for us so for starters it felt good to have got there. We were a little anxious about revisiting the show having left her cooling off since Edinburgh, and when you go back you find so many holes you want to fix, so we were nervous about wheeling her out.
But when we went out on the first night everyone was fully on board, we had fun, people were laughing and the applause felt massive. When we got off stage we hugged each other and that never happens. We are not huggers. So something must've gone right.
Worst gig
Last year we played a music festival on one of the hottest weekends of the year. It was a Sunday afternoon and the tent was just rammed with teenagers hanging out of their arses from the night before, simply trying to get out of the sun so they could stop puking for an hour. Spoiler: they were not in the mood for jaunty musical comedy.
We were desperately racking our brains to think of what 'cool songs the teens might enjoy', like a Dad who decided to DJ his daughter's 16th birthday party. And you know what teens do not enjoy? Old people trying to be cool during their hangover. And recorders.
Most unusual location
We played the 420 Festival last year which takes place in a weed room at the Underground Cafe in Toronto. We decided not to do our set high to keep our wits about us, but turns out second hand smoke can get to ya pretty fast.
The audience were lit, so who knows if the set was any good. Either way, we all had a great night.
Weirdest gig as a punter
When we were leaving Toronto our friends, who were mostly comedians, organised a secret 'farewell' show for us. We didn't know anything about it at all, it was clothed in total secrecy, and made us complete paranoid psychopaths in the weeks leading up because it seemed everyone knew what was going on except us.
When we got there, everyone had chosen a song of ours and performed it for us. They had transcribed the lyrics and piano music, there were costumes and choreography and egg shakers and Pringle drums and bad British accents.
It was like dying and watching your own funeral, and just the weirdest and most joy-filled gig we will ever be in the audience of. And also makes you glaringly aware of the problems with your own material when other people are performing them to an audience that wasn't bothered about not laughing at the bad stuff.
• Flo and Joan: Alive on Stage is at Pleasance Courtyard at 16:00. After Edinburgh they embark on a national tour.
Published: 22 Aug 2018
What do you think?