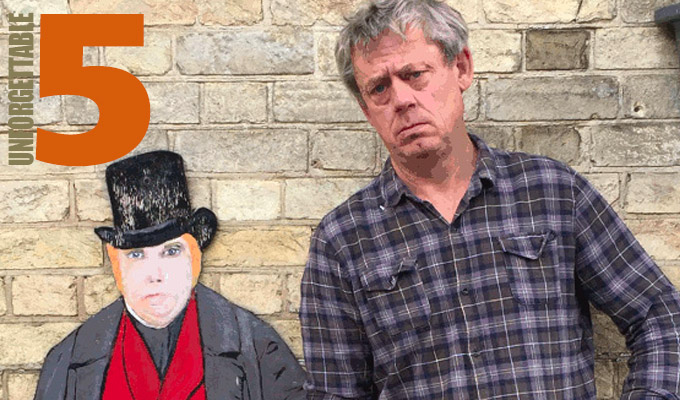 'Cattle market by day, gig venue by night'
Best gig
Bizarrely, it was not as John Shuttleworth but as Brian Appleton (the failed Brummie rocker) at the Bloomsbury Theatre in 2000 I think. I absolutely stormed it and even Seamus Cassidy was beaming adoringly at me after the show. (Sadly he was no longer head of Channel 4 Comedy by this time) My next gig as Brian was a struggle. That was the problem with the character - it was always hit and miss. It lacked the consistency of John Shuttleworth which I inevitably returned to performing as.
Worst gig
The T&C2 on Highbury Corner in London in September 1992. It came hot on the heels of the Edinburgh Fringe where I'd been feted by critics, hailed as a comedy genius and nearly won the Perrier Award. Hubris may well have set in, and I probably deserved a fall.
My mistake was arrogantly assuming the audience would know that John Shuttleworth was a hilarious comedy character and so I didn't bother to set the scene as I always had done pre Edinburgh.
Hence a large chunk of the audience just didn't get the joke (that he's a failed singer-songwriter who doesn't realise it) and they did the worse thing possible - they all started talking. That's worse than being heckled - at least they''re still engaging with you. This crowd had switched off completely… oof!  
Gig that changed my life 
Gigs don't tend to change lives, and they shouldn't really. It's generally a long hard slog gradually developing your craft and building your following.
Having said that, the honest answer is for me it must be a gig at the Chuckle Club on Carnaby Street in 1992. It was just an ordinary 20 minute set with no surprises, but watching it was the agent Richard Bucknall from RBM Comedy.
I met him afterwards and he invited me out for lunch and bought me a cheese sandwich. I admired his frugality and signed on the spot. I'm still with him.
Strangest audience member
I've had a few, but the most memorable was at a show In Blackpool - a Lily Savage TV Special in the mid-1990s. I'd done my set without incident and then Mark Lamar was midway through his set when he was heckled by an old man who sang opera at him.
Mark tried to laugh it off but the guy kept singing these arias and extremely loudly, and the comedian was for once utterly lost for a response. I personally found it hilarious, and I hope privately Mark did too.  
Most unusual location
There's a theatre in Skipton, North Yorkshire which by day is a cattle market, and at night (after it has been washed down with disinfectant and festooned with bunting) becomes a highly unusual but extremely enjoyable show venue.
The sandwiches are great too, but avoid the beef ones (bit too fresh!)
• Graham Fellows: Completely Out of Character, 16:30, Laughing Horse @ The Free Sisters, August 16 to 26 – then on tour
Published: 16 Aug 2018
What do you think?