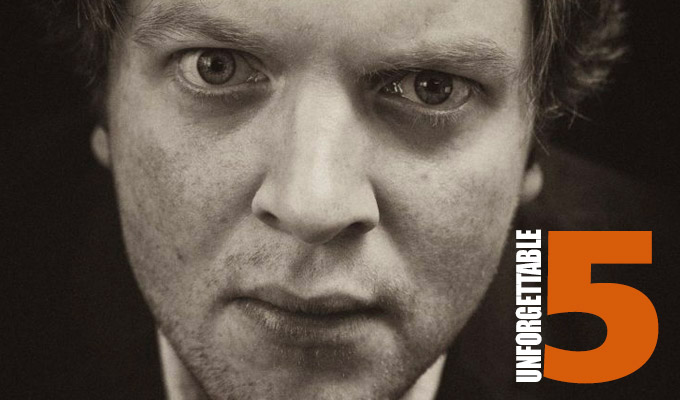 'Some people in this business are liars who will drop you in the shit'
First gig
This was at The Stand in Edinburgh in March 2000 in my first year at university. I'd been going to workshops that they ran on Sunday afternoons and we were all going to do a showcase on the Monday after the last session, but I ended up doing an open spot at the regular Sunday night gig that Alan Miller booked and compered.
I was, inevitably, unbelievably nervous beforehand. I went for a meal at the Greyfriars Bobby pub with two friends and I don't think I spoke at all. Then I walked to The Stand listening to Elvis Costello on my Walkman. Whenever I hear Pump It Up now I always think of that walk.
Sunday night shows at The Stand then were in a back room that is now the dressing room, and it could hold 70-odd people. It would be unbelievably hot sometimes, and the audience were so, so close.
I had quite a few friends turn up to be in the audience and that made my nerves worse, but for whatever reason it went well. At the time I'd never felt a buzz like it, and walked out to the bar area just shouting, 'Fuck!' over and over again. I remember that feeling whenever I feel myself becoming at all jaded. Sometimes it even helps.
Worst gig
Really, I think that the worst gigs aren't the ones where the audience turns on you, or there's just a wall of noise that you can't break through, but the ones that feel a bit "meh".
If the best bit of the gig is six minutes in and then it tails off, that's a bad gig. To lose an audience you briefly held is a pretty shit feeling, especially if you suspect you had become complacent. So those gigs when it's not them but it's you are the worst.
Brutally bad ones seem quite funny quite quickly, and there's usually some sort of silver lining.
I once got totally shouted down by an audience of about 400 in Cornwall at a gig on a campsite. They hated me, and were not shy in communicating this fact. I'd never experienced anything like it. I'd not being going all that long and I'd had bad gigs and been heckled before, but I'd never provoked such an angry response.
For some reason - perhaps because I'd travelled all the way from Scotland - I decided that I was going to do my time anyway, and when I finally walked off I went straight to the bar. Brendon Burns was standing there with a big grin on his face and passed me a shot of tequila. 'That was great,' he said. 'You're a proper comic now.' I've always liked him for that.
Best heckler
When I was a student, I went to watch a Comedy Network show in a union building. Hal Cruttenden was supporting Ian Cognito and being very funny indeed.
Then he started doing some material about suicide. It was going well, until someone in the audience shouted, 'Do you want to change the fucking subject?; very angrily. Hal earnestly explained that he wasn't taking the piss out of people who commit suicide, but rather out of public attitudes towards it.
The person shouted at him again, with real fury: 'Just change the fucking subject.'
The tension in the room at that moment was horrific. So Hal said: 'All right, I will change the subject. I'll talk about something that hopefully won't offend anyone. Why is it that although I'm a completely straight man, lots of people think that I'm a homosexual?'
The audience tittered out of relief, and then from the back of the room someone shouted out in a very camp voice: 'Do you want to change the fucking subject?' The place absolutely erupted. I have no idea who it was that shouted it, but it was exactly what that room needed at that moment. The tension was completely broken, and Hal went on storm it.
Gig that taught me the most
In 2007 I did six shows in India. I hadn't been doing much gigging at the time. I'd moved to London the year before and had been concentrating on trying to get, and very occasionally doing, acting work.
But a British promoter had asked if I wanted to go over and be part of a package show doing a small tour. It wasn't a big payer. I would be doing 25 minutes every night and sharing the bill with some local acts. This sounded like a fun way of starting doing stand-up again.
I flew over to Bangalore and was taken to a very nice hotel and shown up to my room to sleep off my journey. All I had to do was go to the basement of the hotel at 4pm where the gig was going to be and do a soundcheck. On my way to the room I passed an enormous poster with a big publicity shot of me on it and the words: 'England's Funniest Man' and felt something wasn't quite right.
In the room itself there were 200 chairs laid out and a stage was being erected. It had a back drop, and on the backdrop - in big letters - was my name. Below my name, in smaller letters, was the name of an Indian whisky brand. 'This"' I thought, 'makes no sense.'
There was a technician at a sound desk and so I went over and introduced myself. He asked me if I would be having an interval or just doing the show straight through. 'Oh, I'd have thought we'll want a couple of intervals won't we? How many of us are on? Three? Four?' No, he told me. It would be me. Just me.
'How long is the show meant to be?' I asked. An hour, it turned out. Minimum. As I say, I'd hardly been gigging at all. The last time I'd done an hour had been over two years previously. I would now be doing my next one in under four hours. In the room I was standing in now. In India. To promote a whisky. I have never felt so disorientated and out of my depth; at once wide awake and deep in the midst of an anxiety dream.
It seemed like an impossible task. But also, given the trouble they'd gone to, not the sort of thing I could just back out of. I raced back up to my room and unpacked my laptop. On it was the text of the show I had done in Edinburgh over two years ago. I looked at it for a bit and decided I recalled very little of it indeed. So I looked at the text for the first hour long show I had done, in 2003. This, oddly, was lots more familiar. And so I hurriedly read through it all and wrote down as detailed a set list as I could. Then I paced up and down and tried to get it into my head until it was time for the show. It was hopeless.
But at ten to eight I got changed and went downstairs to the venue and at about five past eight walked onstage to about 250 people and did an hour, straight through. It was extraordinary. I looked at my notes about twice. And given that I was a smidgeon under 5,000 miles from home, and nowhere near match fit, I thought it went pretty well.
That gig taught me something about what an extraordinary thing muscle memory is; that a show I'd done for thirty nights or so four years previously was still in there.
But it also taught me, rather more importantly, that some people you work for turn out to be fucking liars. And when you're dropped in the shit as a result of their lies it can be tremendously fucking stressful.
(I said earlier it wasn't a big payer. Not for me, at any rate. The British promoter did really well out of it. And I'm not sure that he knows that I know. Anyway, I do.)
Least welcome post-show comment
People shout stuff out during gigs that they'd never dare say to your face and vice-versa. A relentless heckler might turn out to be tremendously socially awkward and contrite if you talk to them at the bar afterwards.
I think post-show comments that reflect the mood of the room are - uncomfortable as they might be to experience - fair enough in a way. It's not necessarily polite, but at least it's honest. If you have a shit gig then you can't expect the audience to pretend that you haven't.
If you die on your arse in front of a group of offshore oil workers and they decide to sing the Balamory theme tune as you leave the venue, then I guess you have to give them credit for making the whole experience as unbearable for you as the circumstances will allow. It's not an experience I savour, but I do know that it's funny.
When people try and rewrite the gig, that's much more annoying. I did an after-dinner gig in Oxford as favour to a distant relation and one man in the audience just wouldn't shut up. He had been noisy all meal and had that drunken alpha-vibe that some people must find attractive, but personally I think is an example of the kind of misplaced arrogance that prevents Britain from being a superpower.
Eventually I said something slightly brutal back to him. The audience all applauded and he sort of crumbled. Most of us are irrelevant, really, but some of us are reminded of this so infrequently that it's shocking when it happens. He sat with his head down for the rest of the gig while his partner patted and rubbed his arm.
When the gig was over, he marched up to me in front the people at my table and said, 'that was atrocious' and then walked straight off before I could reply. Luckily, I knew how the gig had gone because I'd just done it. I'm not saying it was the greatest gig ever, but had he shouted that during the gig it would have been against the run of play.
But he couldn't hang around to discuss the point in much detail because he knew I'd just watched him have to be consoled for fifteen minutes. Nevertheless, he got the last word and so - as the rules of these sorts of engagements determine - I would have to concede defeat.
Sometimes it's kindness that stings. After a gig at Up The Creek one Saturday night that I thought had gone all right - and they didn't always - a man came up to me at the bar and gave me a consoling pat on the shoulder. 'Don't worry,' he said. 'If you keep on trying different things you'll find one you're good at.'
The Miles Jupp Interviews, 15:40, The Stand's New Town Theatre, August 2-12
Published: 30 Jul 2018
What do you think?