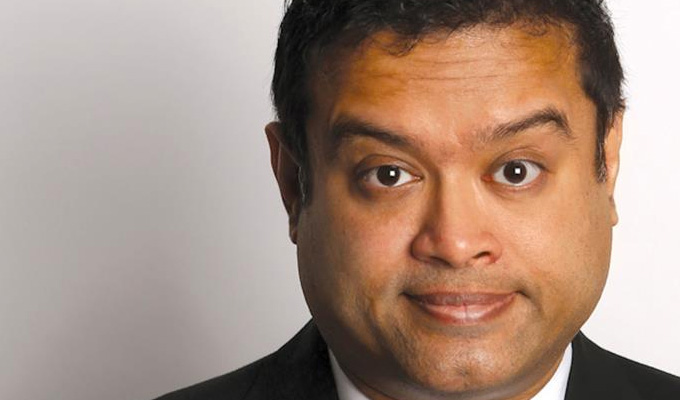 'Four hours' drive, just to play to racist dicks...'
Paul Sinha is currently on tour with his latest stand-up show Shout Out To My Ex. Here he recalls some of the most memorable nights of comedy of the past 25 or so years…
First gig
It was either the first Friday or the second Friday in June 1995. I had dutifully scoured the Bible (Time Out) looking for new act nights, I had rung various advertised numbers, and the first people to offer me a gig were Ha Bloody Ha, who ran a weekly new act night at the Viaduct Inn in Hanwell. After six months of practising my 'jokes' in a mirror I was ready to take the plunge. Surely, after six months of watching new act nights, I wouldn't turn out to be the worst of the lot?
Hanwell is miles away from anywhere, unless you live in Hanwell. I got there about 90 minutes early and spent the spare time walking around a park rehearsing. The audience was about 40-50 strong, fifteen of whom were my medic mates. I just didn't know.
Worst of all though, the opening act was brilliant. Not 'brilliant for a new act' but actually proper brilliant. I believe that Oliver Turnbull left comedy because his then job was just too cushy. That is very much comedy's loss. Fortunately, the other acts didn't hit the mark, other than a posh lady with a recorder.
About seven acts in it was my turn. BCG, medical finals, Mastermind and this were, looking back, the four most terrifying experiences in my life.
For the first two minutes I got a grand total of zero laughs. I could see the eyes of my friends collectively thinking. 'You're a dick, Paul.' But the second three minutes were OK. I survived. If I'd been 1/10 or 2/10 I would have given up there and then. I was 3/10. Oliver Turnbull said: 'You should definitely keep going.' And that was good enough to continue.
Worst gig
There are so many candidates for this accolade, many of which have made it into my set over the years. The one I am going to share is Banana Cabaret, Saturday, November 2002.
One thing I remember about that week is that, comedically speaking, I was starting to hit my stride, buoyed by a great joke about Emile Heskey. I'd had lovely gigs all week, and now I was playing both rooms of the Banana, the venue which had been inspirational to me as a medical student in Tooting.
2002 is also the last year I can remember when I could invite a load of my mates out, and they would be available. Luckily they saw me in the upstairs room. Everything zinged in that upstairs room. I walked off a king, confident that my run of form would continue downstairs.
Emotionally buoyant, I hadn't noticed that the atmosphere was considerably spikier downstairs. Also, through sheer overconfidence, I'd had a drink. I was out with my mates after all. I bought a second drink, and when my name was introduced, I walked on with that pint, certain that my clumsy physicality would be outweighed by my jokes.
Nothing zinged downstairs during seven minutes of sheer hell. Time to bring out my Emile Heskey joke. Nope. Time for self-deprecation.
'This is odd. Upstairs I'm hilarious.'
My first laugh, a pity laugh. And a woman with a scowl that could sink a thousand ships replied…
'Well why don't you fuck off upstairs if you like it so much?'
That was that. Slow handclapped off a paid 20 at one of my all-time favourite clubs. But with no escape, because my friends wanted to stay for the disco.

Gig that changed my life
Kings Lynn Corn Exchange December 2005.
A well-known promoter had booked me for a series of paid 20s, starting with Kings Lynn. He had never seen me, so I was feeling smug that my word of mouth must have been good. And it was Kings Lynn, where I had been a junior doctor for years. My enthusiasm was only slightly dampened by a painstaking four-hour car journey.
For the first three minutes of my opening spot, nothing suggested this would be the gig that changed my life. Jokes went down fine. Then, as the jokes became less obvious, the audience quickly started getting restless. A couple on a front table were snogging each other, with their backs to me. I thought I would address it.
'Sorry guys. I am not disturbing you am I?'
They stopped snogging, the guy turned around and said…
'Where's your fucking turban?'
Looking back I could have tried to be amusing. 'Every time I fuck your Dad he keeps one as a souvenir' etc etc etc. But suddenly I felt every minute of that four-hour car journey. Four hours just to play to racist dicks. The reason I did what I did next was not because of the audience though.
It was because I looked to my sides and saw two security guys howling with laughter. I have no regrets.
I just said, 'fuck this' and walked off stage.
Why no regrets? Because the next day the promoter, while saying all the right things on the phone, decided he had better see me at my next gig to check he hadn't blundered in booking me. That next gig, which had no turban-related badinage, was great. On the basis of that gig the promoter said that he'd like to take me up to Edinburgh. Edinburgh 2006 changed my life.
So many thanks to that racist fuckwit. Thanks to you, I can now afford to buy Speedy Boarding on EasyJet flights.
Best gig as a punter
I'd estimate this gig to be about 1994, and part of the excitement was that it was a club 15 minutes away from home, somewhere between Tulse Hill and Herne Hill. Unusually, considering how good the gig was, it was in a nightclub. Clearly someone had blown the budget because the bill was Tony Hawks, Hattie Hayridge, Harry Hill and MC Mark Lamarr.
Even for a London comedy club in the mid-1990s that is some bill. And they all delivered in spectacular fashion. Harry Hill remains one of my comedy heroes. And yet we hadn't really come to see Harry Hill. We'd come for the MC.
There are many reasons for me to be grateful that I received my live, stand-up education in the first half of the 1990s. I got to see so many now household names reaching creative peaks in small pubs and clubs. And I got to see Mark Lamarr compere.
If there is any justice in the world, more people would know that back in the day he was an unstoppable compere. His mix of unironic swagger and unfathomably quick wit was legendary, and that night it was simply a privilege to witness a man at the zenith of his live career handling a boisterous drunk crowd as though it was the easiest thing in the world. Despite how much I'd had to drink, this was a gig I won't forget.
Least welcome post-show comment
They are all unwelcome unless they are positive.
Comedy is a subjective thing and your negative opinion does not constitute a fact. Just because I don't like Napalm Death doesn't make them objectively a bad band. The polite thing to do is to keep your opinions private. Comedians are the very definition of snowflakes. Nonetheless I do have a soft spot for this one.
About 2006 I was doing both the early show and late show at the Comedy Store Manchester. In Between shows, audience members from both shows are drinking in the bar area. I get called over by a group of girls who, by any conventional criteria, are stunning. I go over, thinking to myself: 'Whatever they say will keep my spirits high for the late show.'
Me: 'How can I help you?'
Spokeswoman: 'Just wanna say. We thought you were shit.'
I literally had no idea whatsoever what I was meant to say next.
• Click here for Sinha's upcoming tour dates, including London's Leicester Square Theatre on March 16 and 17 and The Stand in Edinburgh on March 23.
Published: 27 Feb 2018
What do you think?