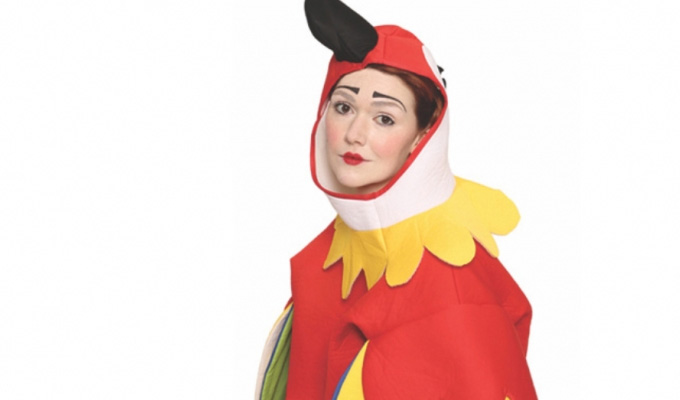 'My self-worth was being brutally sliced away by demonic sadists'
As Elf Lyons prepares for a run of her Edinburgh Comedy Award nominated show Swan at the Soho Theatre, she shares some her most memorable gigs…
Favourite comedy night
In a nutshell - Any gig that makes you feel like this above painting.
My favourite gigs tend to be where I get to either do something niche, end up naked, in an orgy, or there is a free buffet for the acts.
Thus - I love doing the Naked Cabaret. I do it every year. And from ranging from being unhealthily skinny, healthy, a cannibal's dream, to flatulent, flabby and tired, I always wake up in whichever state I am - drunk, sober or otherwise - and go do that gig. It makes me happy and reminds me of how many wonderful people there are in the world and how brilliantly different we all are.
One year I got to MC it in the Underbelly Circus tent. It was fantastic. Two hundred naked people, everyone drinking shots, and loads of naked circus performers doing acrobatics, burlesque acts doing burlesque sans clothes, and me getting to wiggle my bits in between as the master of ceremonies. It was one of the silliest most fringiest events I have ever done.
Gig where I learned the biggest lesson
This Edinburgh, I got do Hilda And The Spectrum with my comedy partner Ryan Lane. He dresses as a 45-year-old tour guide from East Berlin, and I dress as a 94-year-old man made out of paper maché.
On the first night, we sold out the room.
On the second day, we had one audience member. ONE.
She sat on the third row and wasn't keen on audience interaction - (which is mildly problematic as we need the audience to defeat Angela Lansbury).
We wanted to do the show. So to make it less like a Freemason induction ceremony, we begged the bar staff to come watch the show too. Which they graciously did, and in a very supportive and not-at-all-unhelpful-way, by sitting in a small clump at the far back of the 80-seater room we were not filling .
We did the show to four humans and 76 imaginary friends. We had fun. The staff were laughing. We experimented with gags. At one point the lady on her own smiled. We were thrilled. We didn't let the small audience get us down.
The next day it turned out the woman was a reviewer from The Scotsman.
Let's not go into the review. The point is we had a great time and we did the gig, as a gig is a gig and every audience member matters - no matter the size.
It bonded us as a comedy duo and as mates. Doing a show with your best friend is an absolute treat and you've got to remind yourself how lucky you are to do the job you do.
Worst heckle
I think the image above is enough to convey the annihilating feeling of stone cold silence of 100 children and their parents.
It felt like I was being hard stared by 100 nit-infested dementers. I went on after Brendon Burns had torn the place apart. In terms of energy change it was like imagining Nick Drake trying to follow Led Zeppelin.
There is nothing like the glowing eyes of hatred from the adults of the future to put you back in your place and make you remember that you are never safe and that everything that feels nice and good in the world can be removed.
The heckle came from a small child on the front row, who put her head in her hands, turned to her mother and said, 'Why is she doing this to us?'
Her mother looked at her and said, 'I don't know.'
My ovaries dried up.
Worst gig
Have you ever seen the Wicker Man? Or watched foxhunting? Well that is my experience of The Gong Show. .
I did it once and it felt like being masturbated with sandpaper, or if all my love and self worth was being brutally sliced off in chunks by demonic, sadistic audience members (picture Christopher Lee, above, holding a red card whilst internally thinking 'I don't like women').
I lasted three minutes. I got heckled for being a posh bitch and threatened with rape. Obviously, the crowd were not all horrible, but the atmosphere of a fight made me turn from a nice woman to a creature who hates kittens, newborn babies, plants, music, films, children, adults, anyone in Zone 1 of the London Underground and life itself.
The reason I did the show was to 'earn my stripes' - as everyone I knew had done it and I wanted to show that I could 'do it too'. However, although many will disagree, some gigs are just not worth it. After that I decided, 'I will never let an audience terrify me and make me feel like I don't belong'. Or feel this desire to 'prove myself' to an audience.
Weirdest location
Once, for a film festival in London, I was asked to organise a comedy gig on a London Bus - no idea how it was relevant but basically, someone knew someone who could get a double-decker bus.
On the day, though, it turned out they could only get a single decker bus, and due to health and safety regulations they could only sell 16 tickets to the event. And four of these had to go to ushers and the other five to the acts.
So… Matthew Highton, Joe Hart, Amy Howerska, Angus Dunican and I for two hours on a Sunday evening stood on a bus and performed to seven audience members as we travelled around central London in rush-hour traffic.
It was the slowest, most English re-enactment of Speed that has ever occurred - and caused many looks of bemusement from neighbouring cars.
Totally weird. Really fun.
• Elf Lyons will be hoping to create some unforgettable gigs for a more positive reason at the Soho Theatre from November 28 to December 2, when she will be performing her Edinburgh Comedy Award nominated show, Swan.
Published: 28 Nov 2017
What do you think?