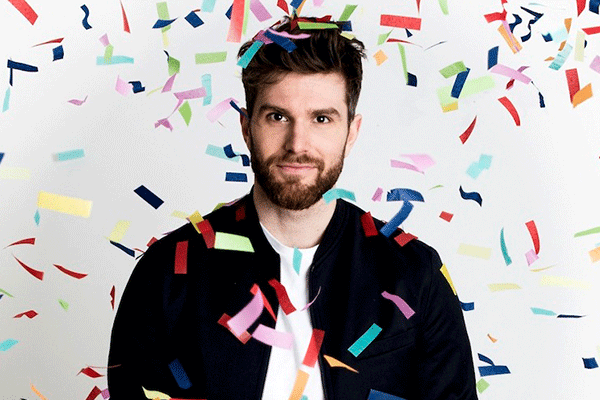 Never support Pixie Lott
Best gig
I was a regular on Bring The Noise, a panel show on Sky1. I remember on maybe the third episode, we were having a break to move in some scenery.
I was having a great time, all my jokes had landed, I'd just watched Frank Skinner sing Three Lions live and before that sung a funny verse in a song with Nicole Scherzinger who I was now getting on excellently with.
I got famous people's telephone numbers and they would actually txt me. It was unbelievable. It felt like a dream.
Then it was cancelled after one series and nobody on the show txts me back any more. 
Worst gig
It was a corporate Christmas gig in Kettering. Gigs that involve the words 'Christmas' and 'corporate' are hellish at the best of times but when combined they really are a crock of shit.
I compered it to the best of my ability. Half of the people were at the bar trying to talk over the seemingly annoying noise of the comedy. The rest of the people on huge round tables looked up at me while they were eating like I was a museum exhibit.
The first act got nothing. I went back on. The second act was getting nothing until an unbelievably drunk lady wondered on stage and started blowing a whistle (did I mention they gave out whistles?). The act started insulting her (gently I may add) and the audience united. It was finally a gig.
Then, moments later the manager of the whole venue walked on stage whispered in the act's ear and told him to leave. Yes, leave the stage. The act rightly said 'Fuck this' and walked off. The manager said one of the friends of the lady complained so he 'took matters into his own hands'.
We all refused to go back on. The manager apologised and I finally agreed to go back on for a last section. Then just as I walked onto the stage a HUGE fight broke out, people were throwing punches, people and chairs. I just stood on stage and commentated on it. It was actually pretty fun. 
The gig I learnt my biggest lesson
I was 'compering' a gig in front of 10,000 people in a car park in Bristol. Unfortunately they were not there for me, Pixie Lott was the headliner and basically I just had to keep them happy while they set up drums in between acts. It was for charity so I thought I would find some fun ways to raise some money.
'Who has £10 and I'll crowd surf to you', I said. Someone at the back held up a note and I proceeded to leap from the stage. It was only when I was in the air that I realised everyone was nine They collapsed under me and 'crowd surfing' quickly became 'standing on nine-year-olds'. I eventually got back to the stage then one person (at first) threw a pound coin. It flew beautifully into the centre of my chest. I watched it fall to the floor, then slowly looked up to an incredible sight. You know that moment in the movie 300 when the arrows blot out the sun? It was like that, but with change.
That day I learnt my biggest lesson in stand up: don't accept a gig with Pixie Lott as the headliner in the first place.   
Worst heckler
I once had a lady in Teddington stand up in the second row and shout: 'Why don't you just read out the raffle' and sit back down. A gig will always be tough when the headliner is a tombola. 
Least welcome post-show comment
Someone once tweeted me saying: '@joeldommett your so unfunny I actually want to stab him. #cunt.' People say that the worst thing you can do is reply because that gives them the attention they crave. There is one worse thing. That's when your mother replies on your behalf. She replied: 'I think you'll find it's you're not your you #cunt.' 
Joel Dommett is on tour now Dates.
Published: 23 Sep 2016
What do you think?