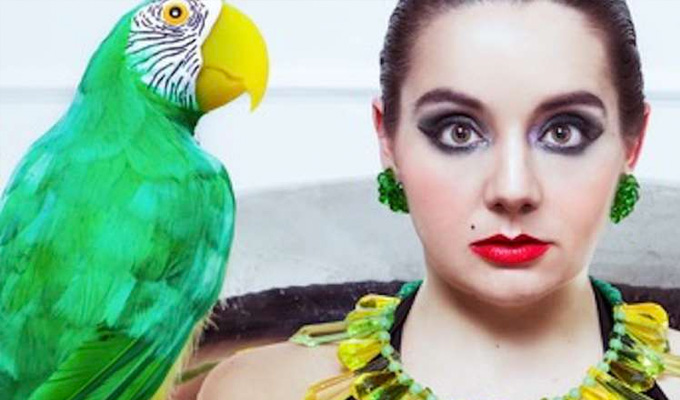 Hands around my neck, he shouted: 'I'm going to kill you'
First Gig
Logan Murray's Amused Moose Course Showcase. I have no idea why I did this course. I wasn't into stand-up, but I was one of those out-of-work twentysomething actors who experienced a vague sense of unfulfilment from office jobs and a slow realisation that things weren't working out. Let's face it I wasn't going to give my Hedda Gabler any time soon.
I did a 'tight 5' of observational stuff. Let's just say, surprisingly enough I was no Michael McIntyre. I blathered on about tights falling down and gussets or some drivel. It went great obviously, those things always do. But I knew that wasn't really me. I didn't have the bug yet.
Worst Gig
I mean, I have far too many to choose from. I put this down to the director of my first ever Edinburgh show, John Gordillo. He said 'Holly, you need to go out there and die 500 times'. So I did.
Not long after this – I went through a very experimental phase…. did I? Heck I don't know… maybe I was just being me?! Anyway, I used to do this 'piece' called 'Papa John'(pre the pizza company days). It was inspired by Russian women in Chekov plays. I wore a shawl and it was delivered very straight – with the right crowd it would really work (ie if the crowd was Simon Russell Beale). This is an excerpt:
Papa John, Papa John, Papa John, Papa John?
Where've you gone Papa John?
Where've you gone?
you've been gone for too long Papa John
Papa John, Papa John, Papa John, Papa John?
Deep fried crispy wonton Papa John Papa John
Do doo ron ron Papa John
Is that you on the phon' Papa John?
Where've you gone Papa John?
Three minus two equals one Papa John

So you can imagine how this would be an ideal set to do at The Bearcat Club in Twickenham (where later I find out is notorious for heckling/ booing).
Young, inexperienced and naive I was up for anything. As soon as I got there, I wondered how much the crowd of 300 rugby fans would enjoy my fascinating piece. No MC, you are just introduced by name and no warm-up. I give them my Papa John. The jeering and the shouting starts. I'm giving it everything. I rise to the bait – I'm up for a fight.
The promoter is at the side of the stage beckoning me off. If anything this adds fuel to my fire. I am going for it. They are going for it. I am shouting Papa John – standing on the table walking table to table – they are chanting Papa John back at me. It wasn't a death exactly; it was an event. They got into it: We are Papa Johning to and fro. I can't shut them up – they are going wild for Papa John – they've been wiped up into a Papa John frenzy. I'm finished and leave.
Dominic Holland is on next, As I pass him I mutter 'sorry'. He goes on and they won't stop chanting 'Papa John, Papa John.' Ten minutes into his set they are still at it. They calm down and at the end of his set they start up again. It's like they want blood, Papa John's.
I think Dominic Holland probably wanted Papa John's blood too. I asked the promoter if I could leave by the back door, so fired up were the crowd. But he made me leave through the crowd to a chorus of 'Papa John, Papa John'. To be honest I've had worse gigs.
Gig that taught me the biggest Lesson
A David Bowie tribute gig, before his death.I've never ever drunk before a gig. I don't need any more challenges when I'm on stage. But one summer a few years ago I'd been at a wedding in the daytime and they had a free martini bar. It was a hot summer's day and I hadn't eaten much.
I went straight to do two gigs that night. First one, fine. Second one was at the Weirdo's David Bowie Tribute Gig – and if anything's an excuse for a bit of Knockabout fun.
I went 100 per cent crazy Bowie on it. I wasn't exactly sure what I was going to do but I had two things with me: A bright orange backless dress and flash paper – the paper magicians set a light on stage. That and lots of martinis in me. As I walked through the crowd I started to set the paper alight. The paper was stuffed down the back of my dress – narrowly missing the audiences I went up in flames, patted it down, made some noises and left. No more pre-gig drinkies for Holly…
Least welcome post-show comment
I've given myself a lifetime ban of Leicester. No matter what, I shall never ever return. And I'm sure Leicester is equally happy about that.
I did a weekend of shows at the festival there culminating in the gala show at The Curve – Europe's most technically advanced theatre apparently. So it was a bit of a shock when I gave them my iPhone to play my track and they asked for it on a CD…
But that wasn't as bad as the jeering and booing I experienced from an 800-strong crowd. When it gets that bad I just enjoy it and give it even more welly. I remember the train ride home – no space to sit, comedians literally piled on top of each other in the toilets and corridors while Phil Kay played his guitar.
I was not in the mood for a singalong. Not after being chased off Twitter by a barrage of hate and vitriol from the people of Leicester: 'You should go back to prostitution.'
I didn't take their advice but I have now gone back to Twitter.
Most unusual location
I did a show called At Home With Holly in my flat in London for six months, then rented a flat in Edinburgh – became a venue manager and did my show in that flat for the festival.
The audience would move from room to room, they would wake me up in my bed where I'd do a dance, come visit me in the bath, set fireworks off in the shower, throw raw meat at me in the kitchen, watch set up CCTV footage of plant audience members kissing in the loo.
In my show in London I had a cast of comedians who would pop up. Paul Foot would arrive – ring the bell, walk in as Chief Inspector Foot and try to solve a crime like a mental Poirot with a mullet. Phil Burgers was a staple - he would often greet the audience half naked while playing an accordion in the lift, Rob Broderick became the voice of the plant in the corner of the living room and starred as the beatboxing fern. Barry Ferns played my 'neighbour' in London complaining of the noise. He knocked on my door and all 35 plus audience members watched the contretemps.
His anger was very real. We started to argue, then fight, eventually a tussle and he got me on the floor and had my hands around my neck: 'I'm gonna kill you.' I'm shouting 'Help! Help!'
At that point my real neighbour who could hear everything from the stairwell came to my aid. 'Are you OK? do you need help?' Then he popped his head round the door and saw the 35 people watching….
I sent him wine and chocolates the next day.
• Holly Burn: I Am Special is on at Underbelly Med Quad, 18:55
Published: 15 Aug 2016
What do you think?