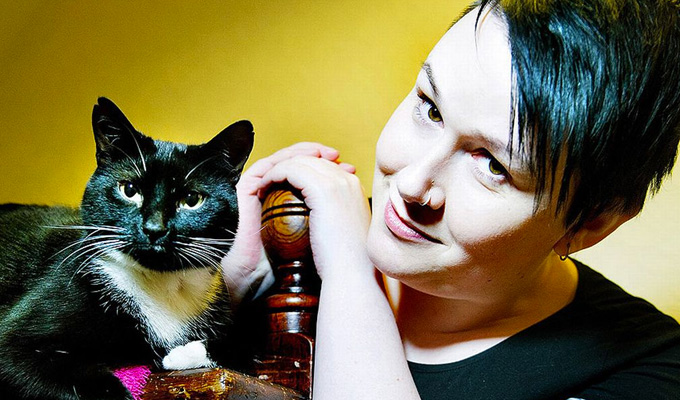 I was called 'the least professional act ever'
First gig
In July 2003 I'd given up on my screenwriting ambition, I'd given up on my musical ambition, having just left the band I was a bassist for, and was working doing data entry in Chorley, Lancashire. I distinctly remember walking in on the day after I'd accepted that I'd given up on these things and sitting at my desk thinking: 'Is this it, now?  48 weeks per year of this until I'm 65 and then get a couple of years off before I die?'
That weekend my friend Rick and I were chatting on MSM and he said a friend was looking for someone to MC his rock night and I should give it a go.  And I said yes. I'd always wanted to be a comedian and had been a comedy nerd since I was a kid but never thought I'd be able to do it, but this kind of felt like my last chance so I went for it. 
I spent two weeks and tried to write an hour of material.  I had no idea that you should do open spots and slowly build up to that point.  On the night I was terrified.  I couldn't eat for two days leading up to it.  On the night I got there three hours early and sound checked.  I sat around getting more and more worked up. 
I went on and couldn't get their attention, I tried shouting and that didn't help.  It was all my worst fears.  I came off stage feeling defeated, but knowing that I had to go back up and do the same thing again another three times between each band.
I downed a shot of vodka which I couldn't quite get to my mouth; I was shaking so much that I spilled most of it.  But half an hour later I had to go back up and I told a joke and it caught.  It got a laugh – not much, but the majority of the people in there laughed and it was like a rush of endorphins, YASS! I could do this, if I could get a laugh for one joke there was no reason I couldn't eventually write enough to get a whole set together.  I had a new calling. 
From then on I was hooked it took another four years to eventually get beyond the terrible stage fright.
Best gig
Glasgow Stand.  One of the last gigs of my drinking and drug-taking days there fell into infamy when I managed to destroy the Saturday night show. It took eight years before I got invited back after that, and quite right too.
I was terrible,but Glasgow Stand became my favourite gig, every time I played there it felt like exorcising demons until last summer when it became the site of my best gig to date, and it was a weird one. 
I didn't even do my full set.  It was a rowdy Saturday in Glasgow, I was on with Brendon Burns and it was a fantastic fun, gig with an up-for-it crowd,
I went out and was having a great gig – one of those where I walked out and felt the audience feel uneasy at seeing me (as happens quite a lot at weekend gigs) and as always I won them over. It was electric. I got about 12 minutes in and suddenly realised that there was a chunk of the crowd whose attention had disappeared, their focus was elsewhere I tried to address it and someone started shouting: 'He's fainted, he's fainted! get help' the house lights went up and I realised I was going to have to end it there. 
Turned out a guy had been laughing so hard that he'd not been able to catch his breath and I'd got into a joke rhythm that wasn't allowing him to breathe properly and he'd passed out and fallen through the fire exit knocking himself out.  Paramedics were called and he wanted his photo with me while barely conscious. 
I went from being quite good at comedy, to very good, to potentially lethal in just under two years. I ended up going back on at the end to do an encore at the audience and Burnsy's request.
Worst gig
There are two that vie for this title, both equally excruciating.  My sister was also at both of them.  The first was in 2004 a Mirth Control gig in London, I was still drinking back then and it was a free bar.  I was on second from the end and had got through about eight or nine pints by the time I was introduced on stage.
I started off badly, then I got heckled by someone and tried to deal with him and it seemed to go OK, but I used up my ten minutes doing that, and then tried to shift gear back to my set and it didn't work and I just massively over-ran whilst dying on my arse.  This made the headliner go on late and the gig finished late. 
The only thing worse than dying humiliatingly and then having to queue for a taxi with everyone else from the gig who have now missed the last Tube home because of you and hate you for it, is doing that in a queue with my sister who stood there going: 'I don't know why you did that.  That was painful.  Why would you do that to yourself?  You're just not funny.  Like, I've never thought of you as a funny person so I can't understand why you'd do that.'
 I quit stand-up for about a year after that, especially as the promoter described me as 'the least professional person he'd ever worked with'.
The other one, the one that gave me stress dreams for years afterwards was at Glastonbury in 2008, I'd been offered the gig and would have been on on the Saturday night, but then Bill Bailey wanted to turn up and do some new stuff for his tour so I got bumped to the first act on the Friday morning. 
I barely slept the night before and just before I went on my then girlfriend phoned me to say she'd been to get a tattoo and the tattooist had screwed it up massively and I just went into a massive panic attack. 
I remember standing at the back of the stage thinking: 'This is it, this is the most important gig you're ever going to do'. It wasn't, but I was totally caught up in my panic and went out there and died.  Died a proper death. A thousand people in a tent silently listening and not enjoying it.  The only person laughing was my sister.  Which if anything made things worse. 
I did my half hour and walked off ready to be sick and the show manager for the stage said in a flat tone: 'Don't worry, you'll still get paid.'  I later got voted "Worst act of the whole festival season" on Festivals.co.uk.  And that was how I learned NEVER to google my own name again.
Best gig as a punter
I grew up as a comedy nerd, I was born in 1978 so my earliest memories of comedy involved sitting in the hallway of my house having snuck down stairs so I could watch Blackadder and The Young Ones through a crack in the door.
I religiously tried to watch Saturday Live and Friday Live, and then all the shows on TV that showed stand-up, Gas, The BBC Stand Up Show. I watched every sitcom I could and when I was 17 I went to the Phoenix Festival where I spent an afternoon watching stand-up in the comedy tent, Mark Lamarr, Frank Sidebottom, Matt Lucas as Sir Bernard Chomondley, Mark Thomas and Phill Jupitus.  It was the first time I'd seen live stand up and it was just an absolute masterclass, it was every bit as good as I'd hoped it would be but it made the possibility of being a stand-up seem unbelievably remote, these people were like gods to me.
It was the first time that being a rock star didn't seem like the coolest job in the world.  
Least welcome post-show comment
My sister's 'I can't imagine why you'd put yourself through that, you're just not a funny person' has to rank fairly high. 
I remember once dying at the Frog and Bucket in Manchester and walking into the toilets afterwards. Two women who were talking shut up when I walked in and as I shut the door to the cubicle I heard them say at regular volume: 'God, she was so shit.'
I said: 'I can still hear you, this isn't soundproof.' She replied: 'Well you were weren't you?'
 I've had plenty of insults after I've left the stage on nights it's gone badly (Thankfully all a long time ago as bad gigs are few and far between these days.)  Personally the worst come from people who think they're complimenting you, but really aren't. 
The guy who said: 'You were great, but I tell you, maybe if you bleached your hair and lost like three stone, you'd be unstoppable.' If he'd been a TV producer I'd have still been upset but gone 'Oh, really?' and thought he had a point.  But he ran a clothes shop. 
Then there are the people – more often women – who say: 'I just wanted to say, I don't normally find women funny, but you were great.  No, I mean it. You were fantastic.' Which is so close to being a compliment without actually being one. 
It's like, 'I'm sorry if you were offended by what I said' isn't actually an apology.  It's basically saying to someone: 'When I heard your name I thought you'd be terrible, but in spite of my prejudices you're actually perfectly good at the job you get paid for.'  
People don't seem to understand that all female comedians who make a living from this get it every day.  The issue isn't that you don't find women funny, it's that you don't get to see enough funny women.
• Bethany Black: (Extra) Ordinary is at Stand 2 at 18:00
Published: 6 Aug 2016
What do you think?