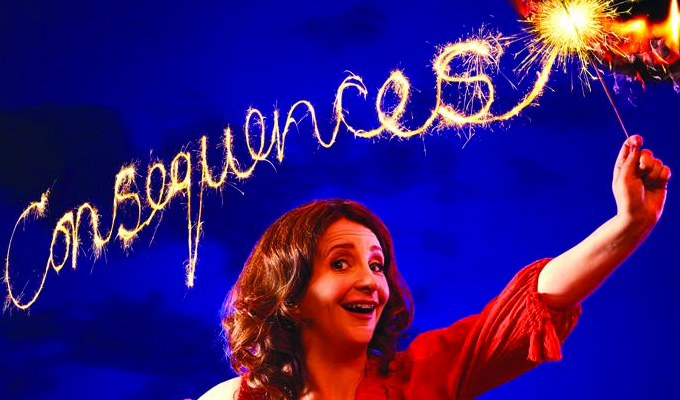 'I ended up telling the crowd they were all fascists'
First Gig
Alexander's Jazz Bar in Chester sometime in the 1990s, maybe 1993? I can't remember the month or even the year. Other comedians find that weird - most can remember the exact date of their first gig, but I had thought about doing comedy for so long that by the time I actually got round to it the date didn't seem particularly significant. The night was run by The Comedy Police, a double act who dressed in police uniforms. It was basically a gong show, if the audience didn't like you they made a 'woo-woo' siren noise and the Comedy Police beat you off the stage with rubber truncheons.
I was terrible but I didn't get truncheoned off so I was happy and stayed for the rest of the show and a few drinks. I missed the last train back to Manchester and I had to wander the streets of Chester for a few hours until the trains started running again. That gave me time to think about whether I wanted to do comedy again and I realised that I did, but maybe not with the threat of physical violence hanging over me so directly.
Worst gig
I was booked to play at a VW enthusiast's festival somewhere in the countryside. I got a lift with Alex Horne and Tim Key. I have always really loved camper vans, Beetles and particularly Karmann Ghias, and I was really looking forward to it. I had a great time looking at all the vintage cars, everyone was really friendly and chatty about their vehicles. By the time I stepped on the stage I was in a great mood. The tent was full of hundreds of equally happy petrolheads. I decided to start with a bit of motoring banter but I hadn't really thought it through, and I faltered.
The big crowd got a bit restless and I got even more nervous when I tried my regular bankers and they didn't work either. Then things really started to turn and instead of sensibly getting off the stage I decided to hold my ground and be a bit cheeky.
For some reason I actually ended up calling VWs 'Nazi Cars' and telling the crowd they were all fascist wankers. I had to hide round the back of the tent while everyone else did their sets, and to this day I still get a flush of shame when I see a VW.
Strangest audience member
I was opening the bill at Downstairs at the King's Head in Crouch End in about 2006. As the compere introduced me, a man walked up from the audience. Just as I stepped onstage he leaned in and whispered in my ear :'I saw you at Glastonbury and you were shit.' He then walked straight out of the venue.
It was deeply unsettling, and I had to start my set by telling the audience what he'd said as they were intrigued. The really weird part was that I'd never played Glastonbury, in fact I still haven't. I like to think that he's still really pleased about putting me in my place. Maybe he was just a VW owner who'd got a bit confused.
Most exotic gig
I got asked to do a poker cruise for Ladbrokes a few years ago. I'd heard so many horror stories about comics doing cruise ships, having tough gigs and then being stuck on the ship for days – either having to hide in their cabin or face the wrath/ pity of audience members. So I stipulated that I would only do a gig on the final night of the cruise. We set sail from Miami, had seven days of Caribbean beaches by day, and exciting poker tournaments by night. By the end of the trip we'd all bonded, and my gig was a lovely chance to reminisce about all the fun we'd had. It was a great experience all round, but I still don't know if I'd risk a normal cruise ship.
Best gig as a punter
The new material nights at Band On The Wall in Manchester in the early 90s were incredible. The comedy scene was just starting to flourish, and Steve Coogan, John Thompson, Caroline Aherne, Dave Gorman and Henry Normal would come down on Sunday nights to try stuff out. They were all brilliant, and Caroline in particular always made me weak with laughter. She would tell her 'scary stories' or do bits of her characters or just silly stories from her life.
Although I get annoyed at people filming gigs on their phones, there's a bit of me that wishes the technology had existed then so that I could have captured a bit of those magical nights.
Lucy Porter: Consequences is on at Pleasance Courtyard 17:30
Published: 2 Aug 2016
What do you think?