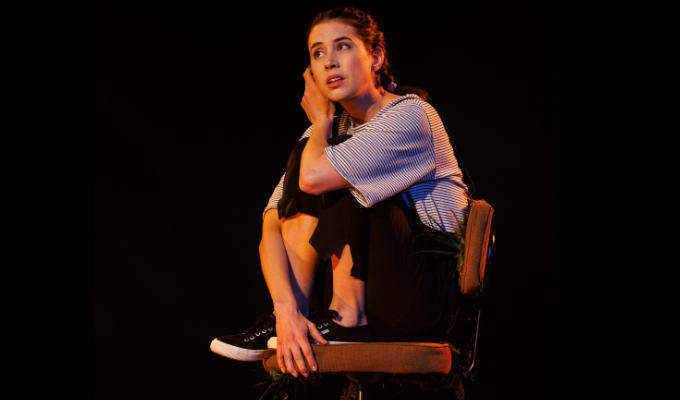 Liz Kingsman: One Woman Show in the West End
The opening-night buzz in London's cute Ambassadors Theatre was palpable. Liz Kingsman's One Woman Show has gone from the Vaults in Waterloo, to Edinburgh, to Soho Theatre, to the bona fide West End. Tomorrow, the world.
It is an astute, snarky, self-referential pastiche of the 'hot mess as heroine' genre, like Bridget Jones, like Fleabag and like every second show featuring an attractive woman grinding out some kind of living in the arts who finds herself single for more than five minutes. If there could be criticism that Kingsman is riding on the backs of other women's creativity, she addresses that before the audience can even clear their throats to mutter the words. She has every response covered.

The comic has constructed an excellent show-within-a-show, pitching to get another show. She reveals her workings, if you like – talking to her crew, camera operator, sound man etc – pitch-perfect with her false modesty, rehearsed gratitude and absolutely relentless self-absorption. Every trope and meandering of a woman pretending to lay her heart bare has been meticulously observed and itemised.
What began as a pared-down woman-on-a-chair production has grown with the investment of attention and income. So there's now a sprauncy set 'which the stalls can't even see', proper lighting and industrial quantities of haze. It looks great.

Kingsman is so clever, arch and methodical that there's very little of her in this – but it's a sharp performance of an observed chaotic vulnerability, which is supposed to indicate sincerity. She has not missed a trick, even down to the now-expected 'unexpected' dance routine that goes beyond the dopey interpretative dance of abandonment in moments of high emotion.
This show salutes its knowing audience, feeding us references to other works and making us feel part of a clever in-crowd. I went with someone unfamiliar with Phoebe Waller-Bridge's creation, and she thought this character was simply psychotic, which is a point of view.
Kingsman has done a proper job here, leaving no stone unturned in her exposure to the genre's mechanics. But it does make me wonder if it has made it even more difficult for a female writer-performer to put herself front and centre without inciting howls of gleeful derision.
That's probably overthinking things, so let us just say Kingsman has made an excellent, exhaustive, thoroughly hilarious piece, which could have been reduced to a sketch to make her points but is worth every richly observed minute.
• Liz Kingsman:​ One Woman Show runs at the Ambassadors Theatre until January 21. Tickets.
Review date: 20 Dec 2022
Reviewed by: Julia Chamberlain
Reviewed at: Ambassadors Theatre