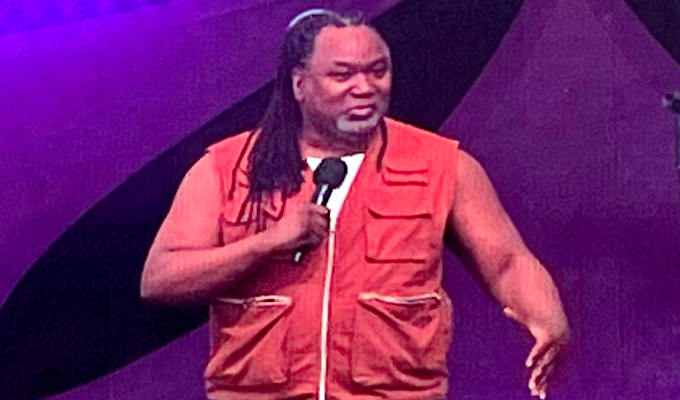 Reginald D Hunter at Latitude 2022
So the 2022 Latitude comedy stage line-up ended not with a bang, but a whimper as Reginald D Hunter's set fizzled out, leaving the American to cut his losses. 'I'm enjoying this as much as you are,' he commented sardonically before throwing in the towel. 'I'm going to go before I'm asked to leave.'
Not only did he end early, but he started later than the audience expected. An unscheduled Jake Lambert, recruited from one of the smaller stages, did rather well with a pun-rich set revolving around his epilepsy and transatlantic cultural differences while we waited for Hunter to appear.
Apparently the festival had muddled up his stage times, which meant Hunter taking to the stage very soon after arriving on site – which might explain why he appeared out of sorts, delivering some old material with little enthusiasm, even by his normal languid style.
The set was by no means a death: he has too much presence, charisma and proven material for that. But even he struggled to maintain a rhythm that resonated.
From the back catalogue, he mused philosophically on middle-aged men turning into 'Uncle Fluffy' that no one wants to fuck; had a strong line about why Meghan Markle was driven from the UK, and the funniest example of international misunderstanding of slang you'll hear.
Even off-form, the way he can hold a crowd is remarkable. A story of a childhood friend, now a drug dealer, having a long dark night of the soul and seeking out the father he never knew is a drama of cinematic scope and detail that the underwhelming payoff doesn't even matter. Funnier is his throwaway use of the phrase 'to cut a long story short' – something Hunter has never knowingly done.
But for most of this unsettled set, he didn't finish ideas he started. For example, talking about his father's recent death at 102 threw up a little family politics and reminiscences but didn't build to a bigger picture you would expect.
Then came the newer material that faltered. A bit about how Hollywood has 'ruined' franchises by making them more female-friendly, which he tied to trans women in sport, was designed to be provocative and divisive, but drew only the gentle ripple of applause of a village cricket match and zero howls of outrage. Not the desired effect.
Hunter then vowed to 'reach into his bag of tricks' to try something to win us back. Neither of his attempts, including a Boris Johnson impression, landed. And on that bum note, he called it a day.
Review date: 24 Jul 2022
Reviewed by: Steve Bennett
Recent Reviews
What do you think?