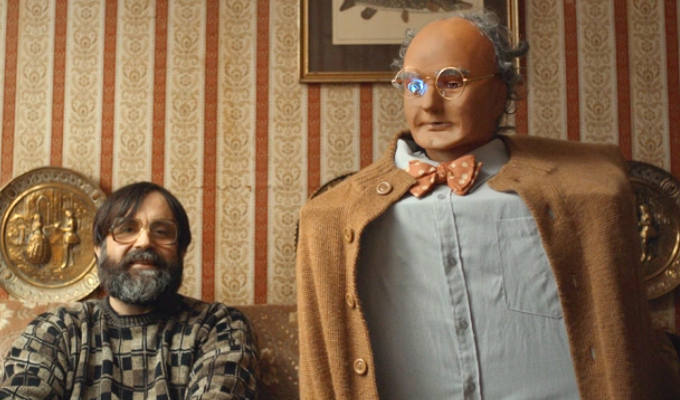 Brian and Charles
Brian and Charles is a whimsy of such sweet, optimistic nature that you forget the silliness of its premise and forgive its simplistic storytelling.
The titular Brian is a version of the Brian Gittins character that star David Earl sometimes performs on the comedy circuit. He's a socially detached sad-sack, living in semi-isolation in a desolate, rain-sodden corner of Wales. 'Things went a bit topsy-turvy in life,' he tells us sorrowfully as we meet him amid the clutter of his workshop where he invents things that nobody wants - even if they did work.
After his airborne cuckoo clock ends in fiery disaster, he has a bash at making a robot with a washing machine for a torso, a mannequin's head and a few bits of discarded ironmongery. It's as successful as his other contraptions – until, like Frankenstein's monster – he is given the spark of life during a passing thunderstorm. Charles Petrescu is the name he settles on, once consciousness comes.
He's naive and curious about the world, consuming the dictionary in a single night and asking such unanswerable questions as: 'Can birds do what they like?' He may be built as sturdily as – well, a washing machine - but his primitive voice synthesiser mangling pronunciations and cadence gives him an endearing vulnerable and innocent air.
It's here the film changes tone, from a gentle mickey-take of this deluded inventor and his crackpot ideas to a genial and touching father-son allegory as Brian and the surprisingly loveable Charles form their bond, both as awkward and out of place as each other. That lasts until Charles - voiced by Earl's co-writer Chris Hayward – enters his rebellious adolescent phase, playing rock music and wanting to branch out on his own, away from his creator's protection.
The plot here turns on to a familiar path. There's another painfully shy woman in the village, Louise Brearly's Hazel, who's a love interest for Brian, if only both can overcome their timidity, while peril comes in the form of the local ne'er-do-wells, the Tommingtons and the bullying father Eddie, whose instinct is to destroy what they do not understand. It's not much of a spoiler to say the day is saved by a contraption worthy of Wallace, out of '…and Gromit' fame.
But the film's only 90 minutes long, so just as its limitations start becoming exposed, we're hurtling towards the wrap-up And besides the whole endeavour is couched in such warm, optimistic tones, celebrating the curious and the quirky without judgment – and made thoroughly captivating by the gently offbeat central performances – that only the sternest of cynics wouldn't be delighted by the journey.
• Brian and Charles is in cinemas now, though it's official opening date is tomorrow.
And a message they recorded for Chortle...
Review date: 7 Jul 2022
Reviewed by: Steve Bennett
Recent Reviews
What do you think?