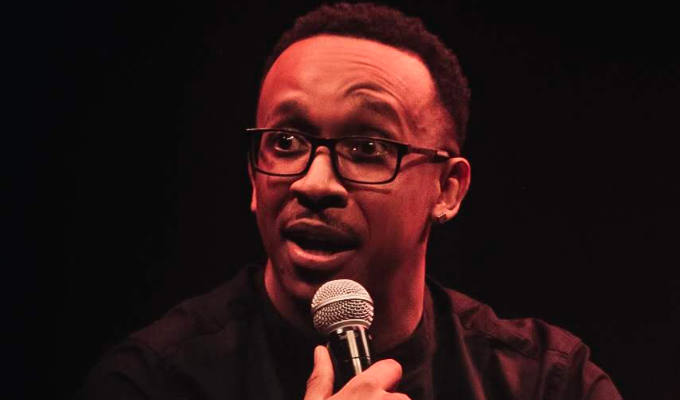 Travis Jay: Son Of David
Travis Jay has some potent things to say about endemic racism and toxic masculinity - sometimes told with sharp comic analogy, sometimes told from the heart.
But he takes time to find passion and direction in a show of patchy quality and muddled focus. Looseness is an intrinsic part of his engaging, energetic style – which gets even the most lukewarm material over the line – but there's a much leaner, more powerful show Wrestling to get out.
The show is named in honour of his father, whose in the Soho Theatre audience tonight, along with mum Angie Le Mar, pioneer of the black comedy circuit, and former world heavyweight champion David Haye, connected via Jay's boxing podcast.
The comic puts his dad on a pedestal but also questions his pugnacious manner, which he ascribes to a lifetime of battling prejudice. How to break that cycle while still standing up against racism is a question he asks himself now he's the father of a four-year-old boy as well as a 13-year-old daughter. It's a conundrum far beyond the scope of an hour's stand-up, so he can be forgiven for not having clear answers.
The other strong, related strand has Jay address his reluctance to express emotion. He vowed never to cry since a terrible teacher reduced him to tears over a simple mistake – and couldn't even weep when his grandfather died. Now therapy has helped him learn how to open the floodgates, and in the most vigorous routine he brings a playful physicality to recreating a powerful sob.
We arrive here after a lot of more workaday observations about his family and professional life, some of which establish the relationship with his son – but many of which are only of tangential relevance.
In the first section, he mainly speaks about how things are going well for him - not that anyone really wants to hear that from a comedian. He's recently married, just bought a house in the country, got to support Dave Chappelle on tour, and gets free stuff sent to him, even if he's disappointed that they are not top-tier freebies.
The story about getting tongue-tied when meeting Idris Elba is notable only for Jay's first-rate mimicry (and there's a more than passable Boris Johnson later, too). Material on changing nappies is borderline hack, juxtaposing South London swagger with rural chill is predictable, and repeating a Twitter spat between two other people over Prince Philip's death seems particularly slight, as well as second-hand.
Becoming a semi-reluctant participant in a Black Lives Matter march proves a more successful anecdote and opens the door to material with stronger bite. Explaining colonial history to a visiting alien is spot-on, while he urges white people to let go of tainted icons like Winston Churchill via the analogy of R Kelly. That section, like another comparing mafia's suave image with modern London gangs, flies wildly off-topic, but the intention is good.
It gives the impression of a show in which myriad unconnected stand-up routines have been shunted together, diluting the ardent and purposeful parts which make it stand out.
• Travis Jay: Son Of David is at Soho Theatre at 9pm until Saturday
Review date: 23 Jun 2022
Reviewed by: Steve Bennett
Reviewed at: Soho Theatre
Recent Reviews
What do you think?