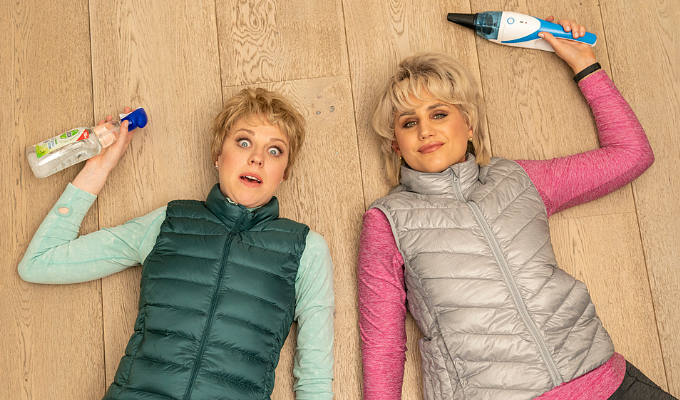 Ellie And Natasia
Although short-form content rules social media, sketch shows have fallen out of favour with broadcasters. Maybe that's because of the cost of needing a new set for almost every scene, or maybe it's the almost inevitable 'it's bit hit or miss' response they tend to attract.
That criticism, however, is hard to aim at the impressive Ellie And Natasia which rarely misses its targets.
Every character is a recognisable contemporary archetype, given a wildly absurdist twist, yet played absolutely straight. The script is gag-heavy, packed with verbal and visual punchlines that keep the 15-minute episodes rattling along.
Ellie White and Natasia Demetriou have given the show a contemporary, feel without trying painfully hard to be on trend. They make use of, and flip, many online video tropes, such as the vapid interview with fashionista whose entire personality seems invested in her pixie haircut, the pathetically aspirational property porn duo with their personality-free interior design, or the passive-aggressive bragging of a wild swimmer.
Cooking shows seem a favourite for mockery, such as The Brothers Pomodoro – a laser-accurate takedown of privileged white chefs in the mould of Old Etonian Hugh Fearnley-Whittingstall – or a silly parody of Saturday Kitchen which features producer Harry Hill and director Simon Bird in cameos.
Indeed, there are star names across the six episodes. In the first Natasia's brother Jamie, of Stath Lets Flats and much else fame, performs a europop song that niftily contrasts a playboy image with the sadness of that reality, while David Morrissey is a dentist with a creepily flirty assistant. That this sketch takes not one but two entirely unexpected turns is testament to the duo's creativity and ability to constantly surprise.
Most characters have a high degree of pretension, ripe for parody, and the best are instant classics in the same way as some of the Fast Show's creations were. Those Pomodoros, for instance, or the over-intense coffee spotters. And making a welcome return from the long-ago pilot, back in 2019, the East European Internet Nails duo with a newly expanded range of unappealing treatments. What a welcome addition to the sketch show pantheon.
» Ellie White and Natasia Demetriou talk about the new show
• All episodes of Ellie And Natasia are on iPlayer now, and the first two air on BBC Three at 10pm tonight
Review date: 21 Jun 2022
Reviewed by: Steve Bennett
Recent Reviews
What do you think?