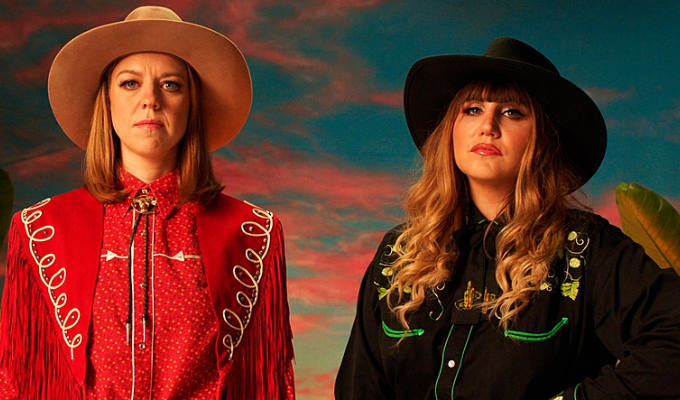 'This is not the show we would have made two years ago... '
The wheels of TV production always turn slowly, but Ellie White and Natasia Demetriou have had to wait three-and-a-half long years between the broadcast of their sketch show pilot and the full series starts tonight… thanks to a little thing called Covid.
' It threw a huge spanner in the works,' Ellie acknowledges. 'We were supposed to film in 2020. So was difficult.'
But there have been benefits, she explains. 'You do get a lot of time to sit with the material and adapt it and change it. I think it would have been a very different show had we made it in 2020.
'It's probably worked out for the better that we've got more time to tweak the scripts and discover what we really wanted to do rather than have a really quick writing process and get it done and get it out.
'It gave us more time to explore different things and cut the stuff that wasn't making us laugh any more.'
The gestation of these six 15-minute episodes for BBC Three has been even longer than that, since the pair have been working on and off as a duo for more than a decade, both at the Edinburgh Fringe and making short comedy films for their own amusement.
They met via Natasia's brother Jamie – creator and star of Stath Lets Flats, of course – who was at university in Bristol with Ellie, and both were in the Revunions sketch troupe.
'He came home for a holiday and said, "I've met a girl that's funnier than you",' Natasia recalls. 'That was the biggest roast you could get of a clown like me. So I spent a whole Christmas or summer looking at her Facebook and being like, "ah, her profile picture is hilarious". Because I think she had a lampshade on her head.
'So I thought she was a LOL machine. Then we met at the Edinburgh Festival and I was like, "Oh, I actually really love her. I'm in love with her."'
'I thought you're a bit of a predator.' Ellie tells Natasia. 'I was terrified of you. And I still am…'
It's not true, of course. 'I thought she was very sweet. Very lovely. She didn't give off the impression that she wanted to scratch me. So we became fast friends. I thought she was hilarious when I watched her sketch group Oyster Eyes at the Fringe.
'We were both pursuing solo careers on the London live scene. We both used to shake with nerves before we went on stage. We did a lot of gigs together, but separately. Backstage neither of us wanted to go out, saying, "I don't want to go onstage. It's gonna be hell." So we thought: why not combine and both quake together? It's easier and it's nicer.'
Perhaps that stage fright is why the pair prefer TV to live work. Most comedians say they love the instant feedback, the freedom not to have to jump through hoops and the frisson of unpredictability that comes with being on stage, but Natasia says: 'I much prefer TV. You have more control over stuff and you don't have an immediate audience out there being like, "no, that didn't work".
'At least on TV, you make it, it goes up to millions of people's homes, and they say it didn't work, it's in the privacy of their own home – not in earshot.'
That Ellie and Natasia been around the comedy business so long has helped them secure an impressive supporting cast, including the likes of Ghosts stars Kiell Smith-Bynoe and Katy Wix, Toast Of London's Matt Berry, and a certain Jamie Demetriou.
'Jamie is a Bafta-winning actor, so I don't know how we got him in the show,' Ellie jokes. 'But he was always going to e in it. And he's, he's brilliant. And Barney, my brother, is also a great actor. So it was so wonderful to have him there. Both really lifted the mood when we felt tired and scared.'
Natasia was also happy to make it a family affair, just like the videos they used to shoot in Ellie's hometown of Oxford, roping her mum in to help out with scenes.
'I wanted my parents there,' Natasia said of the BBC Three shoot. 'Anytime we do this, I'm like, "let's make it like a wedding" because it's so personal. We got my brother and my dad in it, and my mum did a bit of extra work.'
While many double acts are chalk and cheese, this pair say they are on the same comedy wavelength. 'So often Ellie will say something to me and I'm like, "Oh, I just made that joke in my head",' Natasia says. 'I cannot believe how much Ellie has my sense of humour.'
'But I think it's important that we bring different things to the table,' Ellie adds. 'I think Tasha has a wild language that comes from a part of her brain that I don't know how she accesses. And I like dark comedy.
'So I'd say that there's probably different elements that we bring, but there's a thread that we both walk on. The same sense of humour, essentially.'
Their series has been directed by comic and Friday Night Dinner star Simon Bird, who chips in: 'It's amazing, given how unique your comic voice is as a double act, how unified you guys are in your opinions.
'In the edit, if I disagreed with you guys, I would try to seed dissent in the ranks and play you off against each other. But it never worked; you always stuck to your guns.'
When asked about influences, Ellie adds: 'We tried to have everything just come from our hearts and our brains and not go "we want to be like these people". It felt very important that it was authentically from us, from a personal point of view.
And she says producers have always encouraged that. 'It's never felt like they've been trying to push us into writing more Zeitgeisty material.
'It is the show that we wanted to make, for sure. And that feels very lovely. So I hope people enjoy it as well.'
• Ellie and Natasia is on iPlayer now and will be screened on BBC Three from 10pm tonight.
Published: 21 Jun 2022
What do you think?