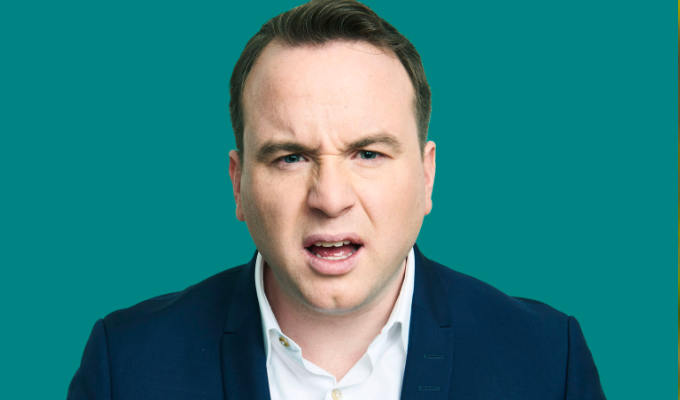 Matt Forde: Clowns To The Left Of Me, Jokers To the Right
Rarely has British politics seemed such a raging bin fire, with a woefully under-qualified mendacious chancer in No 10 wreaking destruction with his chaotic, ill-thought-out populism – and an Opposition struggling to land many punches on even this lumbering adversary.
Yet despite Matt Forde's position as one our foremost political comedians, he struggles to alchemise these apparently bottomless reserves of Westminster shitstormery into pin-sharp comedy.
Perhaps that's because this die-hard Blairite is an avowed centrist, a reasonable man as tired by the Downing Street lies, flag-shagging and law-breaking as he is by Corbynista divisions, antisemitism and sense of national shame. He's exasperated by the state of politics and the lacklustre people at its head, while holding that both the Conservatives and, until recently at least, Labour have been hijacked by a small cabal of extremists that are ripping the nation apart.
It's a reasonable position, but he finds that reasonableness harder to exploit than the fire of partisan fury that fuels so many of his comedy colleagues. The result seems to be a collection of disjoined points, usually good ones but generally verbose, with too much set-up for too little punch. Funny by the standards required of a witty newspaper column, but not by the greater demands of a live stand-up show.
Still, it's an informed commentary from within the Westminster village. Where else would you get impressions of Leeds East MP Richard Burgon? And Forde is an excellent mimic - not for nothing has he voiced Boris and others in the revived Spitting Image – which he exploits well when called for.
While the comic may have long ago stopped working for the Labour Party, he's very much still the Westminster insider with the sort of connections that bring the A-list politicians to his entertaining, headline-grabbing podcast. Talk of Sir Keir Starmer's coldness, Nadine Dorries's stupidity and blind loyalty and Rishi Sunak's superficiality surely echo through the corridors of power.
But tellingly, the funniest segments are away from politics: a straight-up observational routine about intrusive train announcements (admittedly inspired by Grant Shapps' vow to stamp them out) and the over-excitable hype of sports commentators. Simon Evans and David Mitchell may have performed the gold standard routines on these topics, but Forde makes his takes fresh and funny.
But, like the Labour leader, there are some doubts about what this show stands for and what it's setting out to achieve – that it seems a bit bland once you go beyond the noble intentions of wanting a calmer, less divisive Britain.
• Matt Forde: Clowns To The Left Of Me, Jokers To The Right is at Soho Theatre until Saturday then heads to the Pleasance Courtyard during the Edinburgh Fringe
Review date: 16 Jun 2022
Reviewed by: Steve Bennett
Reviewed at: Soho Theatre
Recent Reviews
What do you think?