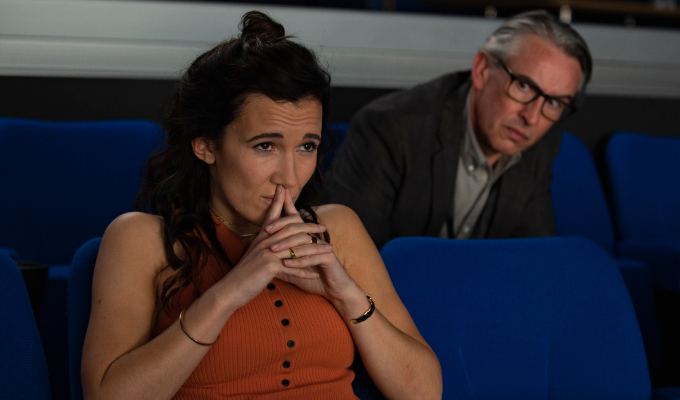 Chivalry
There are few more relevant topics for a satire than Hollywood's response to the #MeToo movement – even if any comedic take must walk the tightrope between po-faced outrage and mocking the genuinely scandalous consequences of the gender power imbalance.
In Chivalry, Sarah Solemani and Steve Coogan pull that off by making no one perfect. That is encapsulated in Coogan's character of producer Cameron, who's trying to be more woke – not out of any great conviction but because he's seen which way the wind is blowing. He may have been dating a woman half his age, but at least he has the good sense to be embarrassed by it.
It's the law that almost every Steve Coogan performance must be likened to Alan Partridge, and Cameron is like a more successful version, able to get away with his social missteps because of the power he wields, as demonstrated with an awkward encounter with Paul Rudd. More importantly, like Partridge, Cameron is trying to be something he's not, based on only the most superficial understanding of the person he thinks he should be – and this is fertile ground for comedy.
Cameron's latest project is a movie called A Little Death (the translation of the French phrase for an orgasm), which contains a problematic, misogynistic sex scene that the director – a lecherous French auteur – refuses to reconsider.
Solemani plays Bobby, an indie film darling brought in by the studio to try to fix the situation. Her first meeting is in the director's hotel room, with him dressed in nothing more than a dressing gown. This is a world in which that is considered normal.
Eventually, Bobby is persuaded by a studio boss, wonderfully played by Wanda Sykes, to take on the project, or to 'put the dinosaur's dick in the mangle' as its blunt-talking star (Sienna Miller) puts it.
While Bobby represents the moral conscience being brought into Hollywood, it's also clear she cannot speak for all women. That's revealed in a hilarious exchange in which Coogan's assistant Ama (Lolly Adefope) makes a bold suggestion for the scene that completely blindsides her.
In another subtle twist of the expected narrative, episode two includes a storyline in which it's the male actor who complains to an intimacy supervisor (played by Aisling Bea) that the sex scene makes him feel unsafe.
Chivalry's script has witty fun in these grey areas, and though the topic couldn't be more contemporary, the sparky exchanges between Cameron and Bobby are reminiscent of old-style screwball comedies, with sassy characters trading pointed zingers. The result is a funny, relevant show bursting with great performances.
• The first two episodes of Chivalry are on Channel 4 from 10pm tonight.
Review date: 21 Apr 2022
Reviewed by: Steve Bennett
Recent Reviews
What do you think?