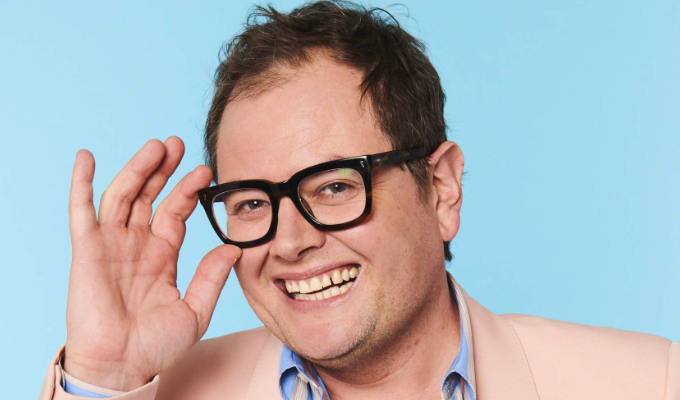 Alan Carr: Regional Trinket
The notion that 'we all need a laugh now more than ever' has fast become a cliché, accompanying virtually every comedy industry announcement. But if ever there was a comedian whose hypercharged good humour could soothe life's ills, it's Alan Carr.
Unconvincingly, he professes to hate being camp – but he's so damn good at it, buoying the audience on his exaggerated over-reactions to the most trivial of concerns.
He may have reached the rarefied level of celebrity where Adele officiates at his wedding, but Carr still exudes a level of petty 'why is all this shit happening to me?' victimhood. It could come across as entitled – indeed he has a ready-made response for anyone who accuses him of bleating about First World problems – but his grumbles are so heavily laced with self-deprecation that they only charm and amuse.
He never lets us forget his hang-ups about his teeth or his voice – though now they're all part of the successful brand – or his humble roots working in a supermarket… which gives him the latitude him to affectionately mock some of those in that job now. It all means that when he meets Celine Dion, for instance, he's the fish out of water, painfully aware that he's not of the same status.
Carr pitches himself not quite as a national treasure –hence the tour's name – but the Northampton lad made good. He knows that much of his life is an open book, played out in the tabloids and the chat show circuit, but her fleshes out the headlines with a chatty indiscretion, up to a point.
Regional Trinket is largely the story of how he, with the help of a certain musical superstar, married Paul Drayton, and is now settled into married life. His nuptials happened in 2018, but thanks to the pandemic-induced delays to the tour, this is the first time he has got to talk about it on stage – taking several shaggy-dog diversions along the way.
He occasionally alights on a little bit of grit either from his own life or the wider world, but they are mentioned only fleetingly in the drive to keep it light. His husband's well-documented problems with alcohol, for instance, are turned into relatives' incomprehension about what being teetotal means.
A wider message of tolerance occasionally peeps through, too, as he addresses parents protesting schools who teach LGBT acceptance to a reminder that Paul proposed in Indonesia, where homosexual acts are illegal.
But hammering an agenda could hardly be further from what Carr does, as he regales with stories of his Mexican honeymoon, married life on the farm, his pal 'Scally Karen' and so much more with the lightest of touches gleefully picking at imperfections, and often with a killer punchline.
He strides the stage with the pace of Michael McIntyre, while occasionally acting out his scenarios, impersonating the likes of a pigeon, an eco-friendly Red Arrows display, and Jason Statham (not so convincing that last one, obviously). An occasional fey flick of the hairline or Ronnie Corbett-style spectacle grab enhances his timing – and that sense of camp he's so supposedly unhappy with.
But it's provided him with a fortune, and an irrepressible stand-up persona and delivery that wins over everyone, especially when it's backed up with stories and cheeky gags of this quality.
Review date: 26 Oct 2021
Reviewed by: Steve Bennett
Reviewed at: Aylesbury Waterside Theatre
Recent Reviews
What do you think?