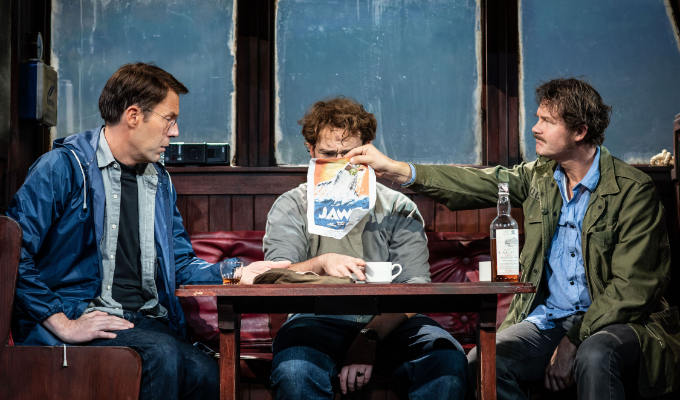 The Shark Is Broken
There is no shortage of West End shows based on familiar movies, but this must be the first based on the making of a film.
Not that it matters whether you've seen Jaws to enjoy The Shark Is Broken, which was inspired by the drunken diaries Robert Shaw kept during the troubled shooting of Stephen Spielberg's blockbuster with Richard Dreyfuss and Roy Scheider.
With weeks, to kill while technicians struggled with the malfunctions plaguing Steven Spielberg's overambitious mechanical shark, nicknamed Bruce, the three were trapped in each other's company. There was little to pass the time but drink, talk nonsense, play card games – and fight ferociously.
Three disparate characters trapped together is a classic sitcom set-up and the script – from Shaw's son Ian and Joseph Nixon – extracts plenty of comedy from the claustrophobic tensions, amplified by Guy Masterson's lean direction.
The grizzled Shaw, as played by his dead-ringer son, above, is a marvellous exemplar of English pompous superiority: sarcastic, eloquent, sozzled but elegant, always convinced he's right. Compared to this thespian patriarch, Dreyfuss is the cocky young upstart, full of naked ambition for the fame he feels is imminent. No wonder he takes badly to being called 'boy' by Shaw. Scheider is the peacekeeper, the voice of calm amid the storm, and collector of dull information.
Aptly, given the shark-based backdrop, there's more going on under the surface than first appears. Shaw and Nixon have plenty to say about masculinity, not least as the two opposing acting forces bash heads as they try to establish superiority, but perhaps both envying what the other has.
And, this being 1974, there's also a cultural clash between Shaw, who changed the acting world in his own way, and Dreyfuss, part of the more commercially ambitious, freewheeling generation. Blockbusters are about to dominate cinema, and there are plenty of meta-jokes about what the industry will become. Perhaps a few too many, truth be told. But you can't begrudge lines such as Shaw dismissing Jaws as 'the witless offspring of An Enemy of the People and Moby Dick' that will surely flop.
The script has plenty of sharp comic lines and simmering tension, while the actors inhabit their alter-egos perfectly. Demetri Goritsas, above, is the spit of Scheider, and adds some zing to what's the least interesting role of the three. Liam Murray Scott's Dreyfuss, below, is a compelling mix of cockiness and self-doubt. And Shaw Jr's portrayal is inevitably poignant but also full of enjoyably rowdy energy. His recreation of his father's plaintive USS Indianapolis speech from Jaws is masterfully mesmeric.
A simple set has them trapped on a small boat, with designer Duncan Henderson opting for a highly effective projection to recreate the Atlantic, sometimes tumultuous, sometimes calm, just like the relationships being depicted.
Nonetheless, with its fixed location, small cast and taut 90-minute-straight-through running time, this hit of the 2019 Edinburgh festival, retains a Fringey feel. They're probably not going to need a bigger theatre, to corrupt an obvious reference, but these frustrated shark-hunters are nicely at home in the bijou Ambassadors.
• The Shark Is Broken is booking at the Ambassadors Theatre until January 15. Tickets
Review date: 22 Oct 2021
Reviewed by: Steve Bennett
Recent Reviews
What do you think?