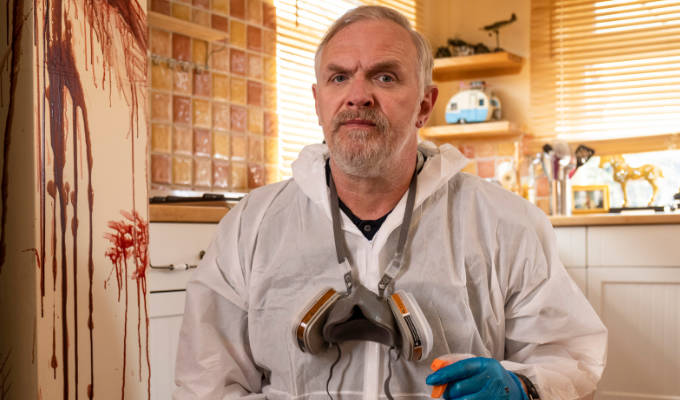 The Cleaner
In Man Down, he created one of the most stupidly funny – and underrated - sitcoms of recent times. But Greg Davies new BBC One project, The Cleaner, is – ironically enough – a messier mix of laughs and drama.
But while it's inconsistent, the premise and the execution is nonetheless intriguing – and there are plenty of solid highs.
The first few minutes of the opening episode, when we are introduced to his crime-scene cleaner Wicky, are brilliantly funny. Davies is not going to be winning any Baftas for his acting range, but he has nailed the art of blunt speaking, hilariously cutting through social niceties.
That's even more effective when used in what should be the sombre situation of walking into a kitchen doused in blood after a particularly enthusiastic stabbing. Tackling this is going to be such a messy task it might threaten Wicky's much-anticipated curry night at the White Horse. However extreme his job, he is a man of very simple pleasures.
It turns out that all the claret is the result of a woman finally flipping after decades of stifling marriage and stabbing her husband 38 times - 'showboating' Wicky calls it. And when the killer (Helena Bonham Carter, in a casting coup) returns to collect a few things while the cleaner's still there, the trouble really starts.
She holds him hostage at gunpoint, as she coolly explains what made her snap, while he's keen to hurry things along while there's still a chance of jalfrezi. The dialogue isn't quite nimble enough to tread the line between stupid comedy and telling a story, but there are some good jokes, a delightfully puerile bathroom scene playing against Bonham Carter's image (though it's almost certainly not everyone's taste) and even a bizarre fantasy sequence revolving as the pair duet on It Had To Be You. Stylistically, it's a mixed bag, which can be hard to get a handle on, but it's enjoyable enough to watch.
Wicky faces a different situation – and different guest stars – each week. In this first episode, Shobu Kapoor takes an enjoyable supporting role as the homely neighbour, bonkers but credible, while comic Paul Chowdhry makes a cameo as her son.
The Cleaner's anthology nature, and the blood-soaked settings, will inevitably invite comparisons with Inside No 9 – which is a high bar for any programme to meet. So although it inevitably falls short of those expectations, there's more than enough here to tempt viewers back week on week, not least the wonderfully dismissive comic persona that Davies has spent a lifetime honing.
• The Cleaner airs at 9.30pm tonight. Greg Davies talks about the show here.
Review date: 10 Sep 2021
Reviewed by: Steve Bennett
Recent Reviews
What do you think?