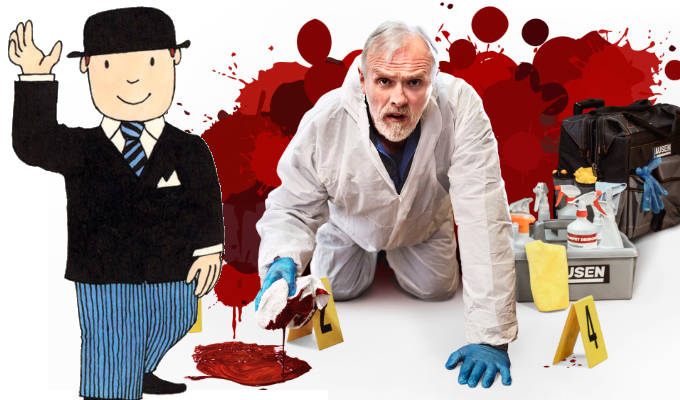 Why my grisly crime scene cleaner reminds me of Mr Benn..
It's a show about a man whose grisly job is to scrub the blood and dispose of the human remains after violent deaths. And star Greg Davies has the perfect analogy.
'It put me in mind of Mr Benn,' he said – the bowler-hatted 1970s kids' TV character who'd visit a fancy-dress shop each week.
Davies, who also wrote The Cleaner, said the parallels were down to the episodic nature of the dark comedy. 'Mr Benn used to get dropped into a different adventure every week and respond,' Davies expanded.
He said his character, Wicky, had to be 'a simple enough person to almost wander into the situations he gets himself into in a childlike way' – just like Mr Benn. 'There needs to be a wide-eyed innocence of sorts to him, even though he does this gruesome job.
'This was one of the challenges, as the German one does, to normalise the blood and the gore, so it's just his job. But then you have to give him some humanity and some moral code. A lot of this was done by Mizzi [Meyer], the original writer.
'He's quite the everyman. His interests aren't spectacular outside his work. To Wicky, a bloodbath is just an obstacle between him and his next pint. I don't think he looks after himself very well, but I wanted to get across the pride he takes in his job.'
Davies also floats a classier reference point for the BBC One show, given each episode is largely a theatrical two-hander between Wicky and someone left behind after the death: Play For Today.
'There's something reassuringly old-fashioned about it while it's a modern show, I hope,'he said. 'Each episode is generally a two-hand "play". I mistakenly thought this would be easier than writing for multiple characters. It is not! It was nice to just focus on Wicky and the person he encounters each week though.'
The format has attracted some notable co-stars, including Helena Bonham Carter, David Mitchel, comedy veteran Stephanie Cole and Ruth Madeley, as seen in Years And Years.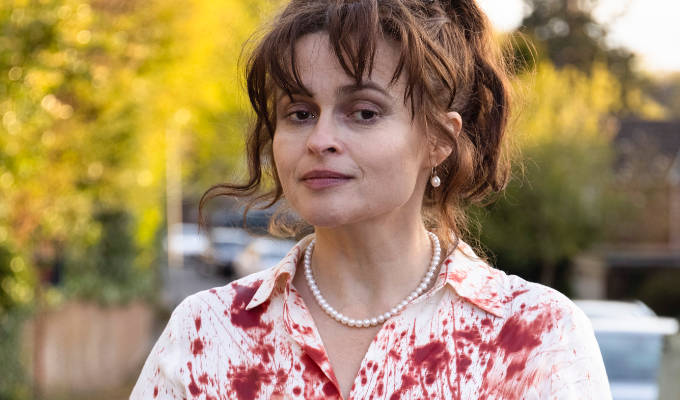 Bonham Carter, above, said it was 'brilliant fun working with Greg… Before this job, thanks to my children, I knew Greg as the really tall man on Taskmaster, but now I know that not only is he genuinely very tall but he is also a brilliant writer, and as nice as he is funny. And he has a lovely mum.'
Meanwhile, Davies has said his favourite moment on set was an incident involving the Oscar nominee, but has been sworn to secrecy.
He also said he did not have his eyes set on attracting any particular stars for most of the roles while writing. 'I'm very much a glass-half-empty man and I assume no one's going to yes. That's the way I live my live sadly, so I wouldn't date to presume,' he explained.
'The only one that I had really in mind was David Mitchell for the writer character. When I watched the German original I thought, "God, David Mitchell would be good in this part". And when I subsequently rewrote it, I had him in mind throughout/ So it would have been a blow if David Mitchell had said no.'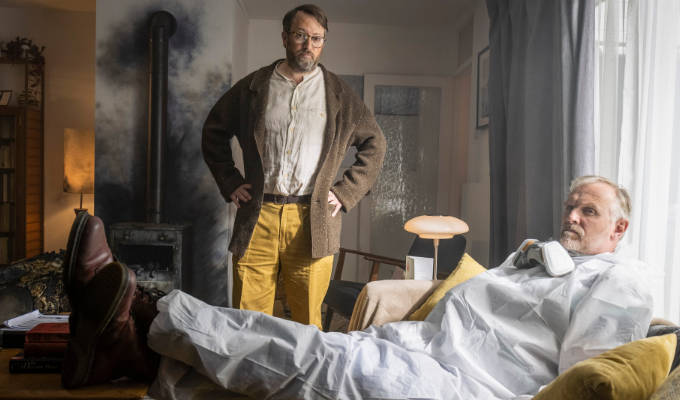 Asked how he compared to Wicky, Davies said: 'Oh, I'm even nosier than he is, but I generally don't get access to crime scenes. He gets to dip in to bizarre lives, which I'm a bit jealous of, to be honest. He also likes a pint and his friends are the friends he has had for a very long time which is true of me.
'As anyone who knows me will testify, I would be the worse crime scene cleaner on the planet. My home and car regularly look like crime scenes because of my incompetence in the field of domestic work.'
And if he were ever to meet a real crime scene cleaner? 'I'd apologise and then ask them if we can get together and design a more breathable SOCO [scene of crime officer] suit for a fat middle-aged man working under lights.'
Davies said that The Cleaner came about after he had a meeting with the BBC's former head of comedy, Shane Allen, and told him that in his next project he didn't want to play another middle-aged father, as he had in Cuckoo. 'It felt like I'd done that,it felt like I was looking for something a little more unusual.
'He [Allen] said I think I have the thing for you. I've seen this strange German thing and I think you'd like it.'
The BBC boss sent him some episodes of the German original, Der Tatortreiniger, 'and I just loved it immediately,' Davies said.
Importing humour from Germany could be seen as ironic, but the comic said: ' I don't know whether I buy the cliche about German humour not existing. The original is very droll and witty and subtle at times.
'That said, it was a lot easier for me as a comedian to take the story and the character and the brilliant premise, and start from scratch humour-wise. Most of the written jokes come from my sense of humour being applied to that character rather than trying to adapt a German sense of humour, which I think is difficult to categorise anyway.'
And while the subject matter requires some dark comedy, Davies does not consider that The Cleaner is in any way offensive.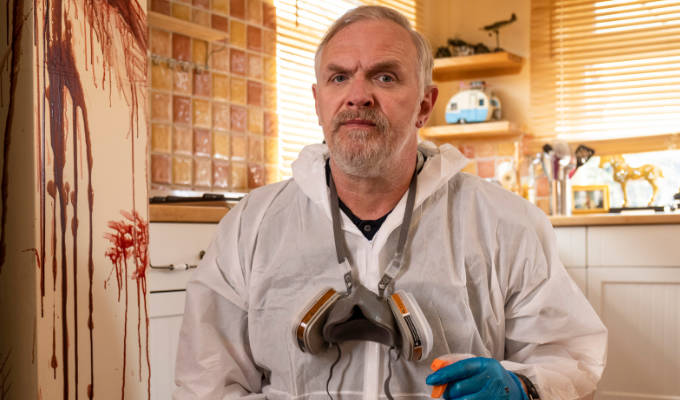 'I think there's a fairly healthy appreciation of black humour in this country and I never felt we danced over the line of taste or thought we were disrespectful to the notion of people who died,' he said.
'It's never been a consideration to me that we were tasteless in this. BBC One audiences will not be shocked by this. The murder scenes and topics I don't think are going to upset anyone. While we make some dark jokes we say on the side of tasteful - I could be very wrong, let's see.
'In the German one, she deals with some fairly shocking subject matters as it goes on and I thing the scope for this show in taking on even difficult subjects is one of the things that really excites me about it. I steered away from [adapting] some of the more challenging episodes because I wanted to introduce him more gently than I might have done.
'But by putting in a straightforward compassionate person as the connecting individual, I think it's limitless where we could go and the things we could discuss.
'I don't want to tempt fate, but I would love to continue with it. And Mizzi made it very clear she would be happy for us to go on our own trajectory and I think we certainly would with Wicky.'
• The Cleaner starts on BBC One at 9.30pm on Friday September 10.
Published: 31 Aug 2021
What do you think?