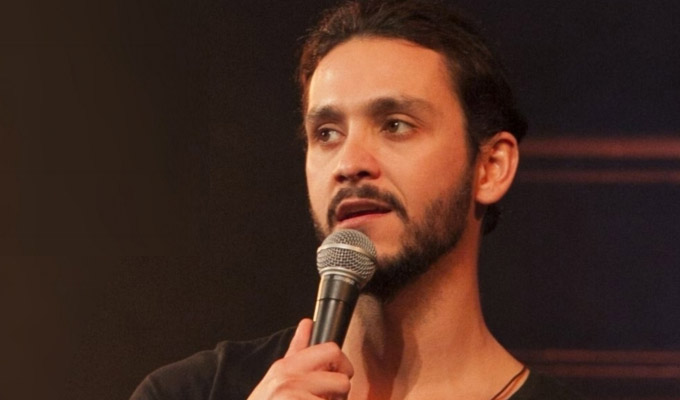 Darius Davies: Don't Be Shit
At the top of his hour, Darius Davis claims his message is one of modest empowerment. Being the best is too hard, he says, 'don't be shit' is more achievable. But he makes no more reference to this moral until the end when he simply repeats it.
However, this firecracker of a comic has no need to add artificial significance to his work. His way of not being shit this Fringe is to offer a greatest hits package – much of it from his 2019 offering Persian Of Interest – and the result is an uproarious hour of stand-up that shatters his humble aim.
He's an excitable presence, bristling with life and fired up by his material. On paper, the set-ups seem familiar: encounters with gobby youths on the bus, embarrassing teenage ambitions to be a professional wrestler, scatological humiliations and run-ins on social media. But the stories burst with playful, mischievous joy, starting gently but with each routine hitting harder than the last.
The Anglo-Iranian comic has something of a laddish energy, but he focuses it for good, especially when he hilariously catfishes Tinder pests. Yes, he's mocking their faulty English, which may seem iffy, but more importantly, he's mocking their faulty morals. The segment calls to mind Adam Buxton's Bug, but with dick pics.
Davis has been the target of online aggression himself, with one audience group taking their dislike of his show to much greater extremes than leaving a bad review. Yet he knows how to take revenge, too, with the showstopper routine describing his best-served-cold retribution for some trumped-up Ryanair fees in a story that unfolds with narrative perfection.
It's hilarious stuff, supercharged by precision timing and an impassioned, charismatic delivery that's tempered by an engaging self-effacing streak. This is a rock-solid hour of constant laughs from a skilled pro.
• Darius Davies: Don't Be Shit is at Laughing Horse @ 32 Below at 3.45pm at 8.15pm until August 29; and at the Free Sisters at 9pm on August 30.
Review date: 22 Aug 2021
Reviewed by: Steve Bennett
Reviewed at: Laughing Horse @ Bar 50
Recent Reviews
What do you think?