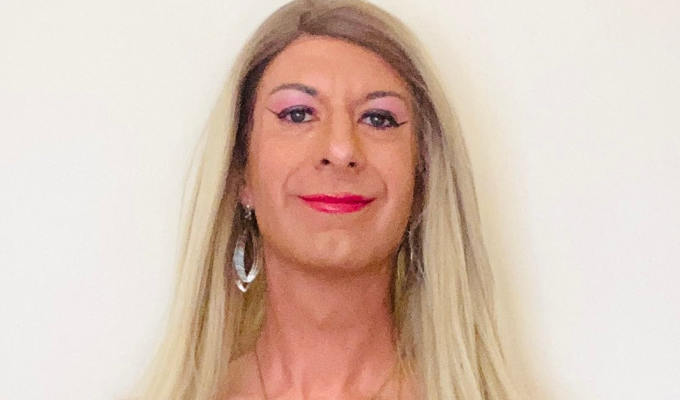 At Home With Angela Bra
This is a show about 'being yourself, apparently. Although – irony aside for a performance conducted in character – that's just a throwaway line to try to imbue the hour with some importance that it never really seeks to have. Rather, it's all jolly but trivial nonsense: cheesy puns, song parodies and 'join-in-at-the-back' participation.
Angela Bra – 'pronounced like Candelabra and is equally classy', we're told, amusingly – is a singer/songwriter, social media addict and part-time primary school music teacher from Essex. Not that any of those characteristics are particularly developed, but they offer the backdrop for a gag or two – and an excuse to crack out a recorder for one of the numbers.
She takes us through life in lockdown, with observations and songs (some original) about taking up exercising - or failing to - glitchy Zoom meetings and online shopping. Nothing particularly original, but Angela, the alter-ego of comic Andy Quirk, conveys it all with the upbeat spirit of a cruise ship party organiser. And some of the wordplay is enjoyably convoluted in a 'dad joke' way - which she sells well.
It's a cheerily endearing persona, and she will get you taking part, whatever your initial reluctance. Like the rewritten hits that feature prominently (eg, Stuck In The Lidl With You) she – and indeed the whole show – is crowd-pleasing but a little basic.
Those limitations become more exposed the deeper into the hour we plunge. The songs, especially, are samey as the electro-beat of a pre-programmed keyboard does not make for much variety. And we'd like to get to know the character better than the shallow references to her life allow. For that reason, contrasting herself with her strait-laced, responsible brother proves one of the better ideas as it fleshes out her persona just that little bit more.
So as it stands, although there's plenty of jollity here, this Bra has too much padding.
• At Home With Angela Bra is back at the Rose & Crown, Kentish Town, on August 8 at 7pm.
Review date: 5 Aug 2021
Reviewed by: Steve Bennett
Reviewed at: Rose and Crown Kentish Town
Recent Reviews
What do you think?