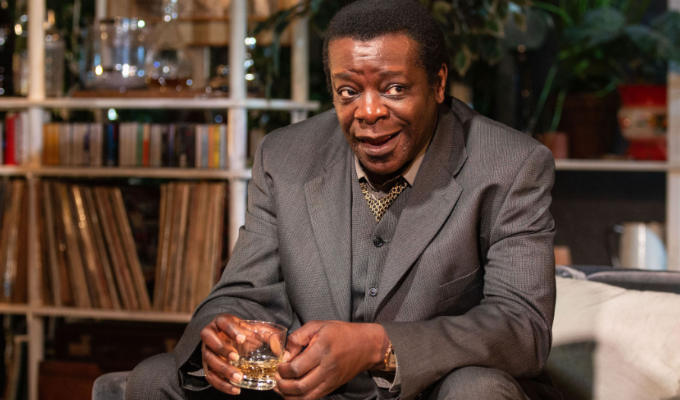 My Night With Reg
Kevin Elyot's tragi-comic Olivier-winning play, set against the backdrop of the 1980s Aids epidemic, has been revived several times since its 1994 Royal Court debut, including an acclaimed version six years ago. Its relevance today, however, probably owes more to the runaway success of Russell T Davis's similarly-set It's A Sin on Channel 4 than the grip of another fatal pandemic.
Not that My Night With Reg is directly about the disease; rather that the deaths it causes among a group of friends and lovers stalks their lives and focusses their minds on the nature of relationships, sex, connectedness and missed opportunities.
Knowing personality-led comments mean there are also laughs both among the characters and at their expense, at least until the ever-present shadow of death, batters them down.
Things are, however, relatively carefree when the play opens on a modest flat-warming party thrown by Guy (Paul Keating), a fussy, timid, highly-strung man, too shy to do anything about his abject loneliness, accumulating heaps of well-ordered records and knick-knacks instead of relationships. He's had a crush on the charismatic John (played with brooding aloofness by Edward M Corrie) since their uni days but never been able to express it.
Globetrotting life-and-soul hedonist Daniel (Gerard McCarthy) turns up without his partner Reg, who, it emerges, might not have been exactly faithful, while James Bradwell is Brummie Eric the young painter-and-decorator working on the flat who gets gradually drawn into to the orbit of these casual friends.
Of special interest to comedy fans is that Stephen K Amos has been cast as Benny. It's not the biggest role in the play but offers more than enough stage time for the stand-up to make his mark as a larger-than-life chipper Cockney chancer with an occasional Sid James laugh. Peculiar as it seems – and it never quite chimes true – he's in a relationship with the dull-as-ditchwater Bernie (a droll Alan Turkington), and the odd-couple relationship is the source of some of the best gags.
The cast have a great chemistry along all the axes, most lines laden with unsaid meaning. That all the characters are friends might seem a little unlikely, though it's acknowledged in Elyot's careful script which slides from comedy of manners into something more intimate and melancholic by the time they've buried the second of their friends. The tonal shift caused can make My Night With Reg feel a little like two conjoined plays, which director Matt Ryan doesn't quite smooth over, but each part has its power.
For this is a thoughtful, often delightful, portrait of disparate characters, hostage to their immutable personality traits, even in the face of extreme situations, and destined to sadness because of it.
• My Night with Reg is at the Turbine Theatre in Battersea, South London, until August 21.
Review date: 28 Jul 2021
Reviewed by: Steve Bennett
Recent Reviews
What do you think?