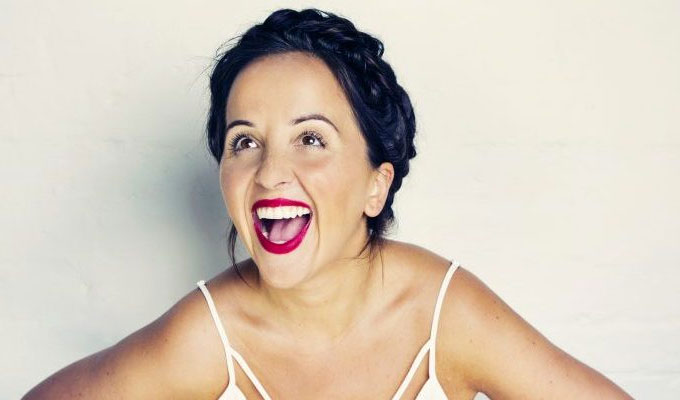 Luisa Omielan at Latitude
Given her mega-success with her breakthrough Beyoncé show, Luisa Omielan must have been tempted to call her new hour about women in religion What Would Mary Magdelene do?
And also given her mega-success with her Beyoncé show, you might expect Luisa Omielan to be playing the main comedy arena at Latitude, not a small tent in the woods that can hold maybe 100. She was certainly expecting the big space… and only found out otherwise on arriving on the Suffolk site yesterday – a discovery that she admits reduced her to tears,
Other comedians might not want to make such an confession, but Omielan always wears her heart on her sleeve – a fact that gives God Was A Woman an emotional heft, even in this work-in-progress state.
For this is much more of a personal yarn than suggested by its premise: about how women have been airbrushed out of all the major Abrahamic religions. Though intended to educate, it's sketchily researched (tonight she muddled Abraham and Moses) – but the point is really to set some feminist foundations for the ensuing hour.
And this revolves around a tumultuous time in her life, dealing - or more often not dealing - with the grief caused by the loss of her beloved Polish mother, whose agonising final days Omielan described in her last heartbreaking show, Politics For Bitches. The comic got a dog, moved to Birmingham – which added to her disastrous time – and unsuccessfully tried all the coping mechanisms you're supposed to.
Though never shying away from what a grim time this was, Omielan buoys this section through her unaffected honesty – vulnerable and badass in equal measure – and the fact she has found reason to be positive again, not least through the painter and decorator who became a rare friend. The energy of the performance, speaking 15 to the dozen, elevates the audience, too.
A few months off hitting the road proper, there's still some looseness to this show – all covered by Omielan's disarming lack of pretence - but before you know it we're back to religion and potency of the female spirit.
In a burst of passionate invective, she ties the treads of the last 45 minutes together, giving reason for optimism and delivering a bold, empowering message that has the audience rising to their feet.
But the real evidence of that feminine power comes not so much from what Omielan says, but from the tumultuous force of nature that is her powerhouse stage presence.
• Luisa Omielan: God Is A Woman tour dates
Review date: 24 Jul 2021
Reviewed by: Steve Bennett