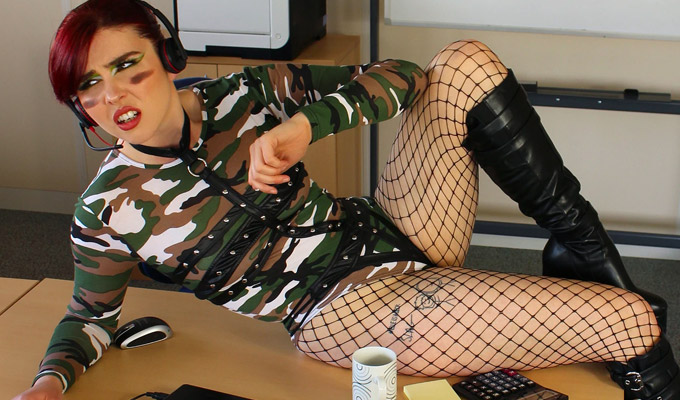 Fella: Give Me Some Credit
Fella is a chaotic, under-rehearsed stand-up with the comic sensibilities of a 13-year-old boy, her material full of gags about knobs and fannies and pubic hair - very occasionally accompanied by gross visual aids on the big screen.
By rights, her show – performed in front of just five people at the Brighton Fringe - ought to be an embarrassment. But Fella has such an infectious joie de vivre, fully embracing the giddy jubilation of being on stage even in front of such a tiny crowd, that she transcends the dumb material she so enthusiastically peddles. She's living proof of the power of energy, enthusiasm and charisma in comedy: when it's a genuine as this, it's easy to get swept up in the preposterous moment.
Her pseudonym might be to protect her anonymity in her civil-service day job, where she works in a call centre checking Universal Credit claimants are looking for work. This provides some sort of narrative backbone to the 40-minutes as she recalls some of the conversations she had and takes some sideswipes at Boris's Britain and the poverty therein. She also had a brief stint in the Army, offering another unusual perspective.
But you would be mistaken to think this suggests any sort of social edge. Instead, over a gleefully ridiculous 40 minutes, we just enjoy the lively company of a woman so joyously happy to be here, laughing at her own jokes, cajoling us into her carefree silliness. Only the most churlish could resist such vibrant playfulness. The show incorporates some singing and dancing, too. Like her comedy, it's a triumph of vivacity over any technical skill, but no less fun for that
There are flickers of writing better than the overwhelmingly lowbrow material, such as a poem reflecting the absurdity of the everyday that has echoes of Tim Key. But the fact that, for the most part, she makes so much out of so little shouldn't be seen as a criticism, but a celebration of her naturally funny bones.
Review date: 7 Jun 2021
Reviewed by: Steve Bennett
Reviewed at: Brighton Caxton Arms
Recent Reviews
What do you think?