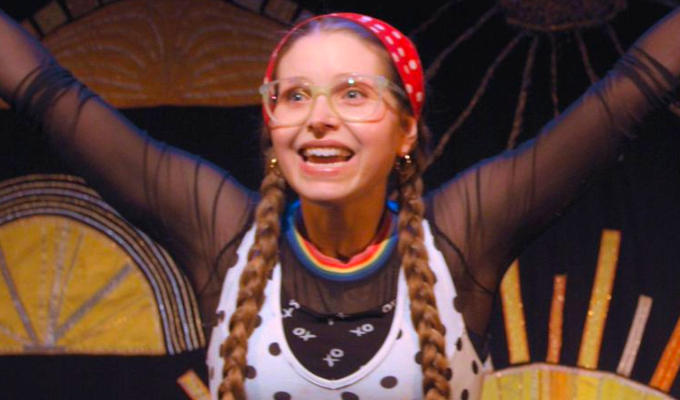 Jessie Cave: Sunrise - Soho Theatre On Demand
I hope this isn't a sign of how slowly we're opening up. Earlier this month, Simon Bird released a stand-up special recorded in an empty theatre, yesterday Jessie Cave released hers, filmed in front of an audience of one: her sister, Bebe.
Unsurprisingly, that doesn't do a lot to create a proper atmosphere, though Sunrise's one-woman monologue format needs audience feedback less that stand-up.
It's none the less intimate for it, though, as Cave is searingly, yet casually, frank as she details her forays back into the dating game as a newly-single young mother. This is not a story we often hear, nor does it fall into any romcom cliché, with no neat resolution within the show. This is so clearly real life; events that many will identify with even if the details vary.
The younger boy she starts dating is sweet, but her heart's not in it. The lure of wanting to be with her babies is too great. Ideally she wants a rapprochement with the father of her children, fellow comic Alfie Brown. In perfect parallel, he comes across as sweet, but his heart's not in a reunion. Instead he choosing to 'sleep with London', in her jealous words. Single figures if we're honest.
Cave tells her nuanced story with an emotional transparency that endears, confessing to even irrational thoughts with the pragmatism of an impartial observer, which shaves off most of the self-indulgent tendencies. Some of the raw immediacy seems a bit diluted - after all, it's been three years since she debuted this show at the Edinburgh Fringe and she's retold the story more than 150 on stage, and once in print – but it still has a strong pull.
You may know Cave is a celebrity doodler, if there is such a thing, and this Soho Theatre recording is broken up with simply animated chapter breaks, while both Alfie and her ill-fated beau are represented by pillows, to allow her to converse with them as avatars. Yet she stays just the right side of twee, with sensibilities that are more in line with a charming indie movie than ineffectual whimsy.
Much of the stage is decked out to represent the giant cot she sleeps in with her babies, a cage which provides an emotional safety as well as a physical one. No wonder she's nervous about exploring a life outside this, although she knows she must.
This involves out-of-character activities such as spin classes, early morning attempts to become a confident power woman, and a trip to Paris with the new boy to attend a Harry Potter convention (she played Lavender Brown in the film franchise, as is surely common knowledge by now) which ends in slapstick.
Broad comic scenes are described with an understated wit, and there are plenty of subtly amusing lines throughout the tightly-written hour – though it is to the show's detriment that there's no audience laughter to emphasise when a joke's a joke.
But as a complex portrait of the woman she was, caught in a limbo, the show is a charm.
• Jessie Cave: Sunrise is available via Soho Theatre On Demand priced £6.99. Her first novel Sunset is being published on June 24
Review date: 28 May 2021
Reviewed by: Steve Bennett
Reviewed at: Soho Theatre
Recent Reviews
What do you think?