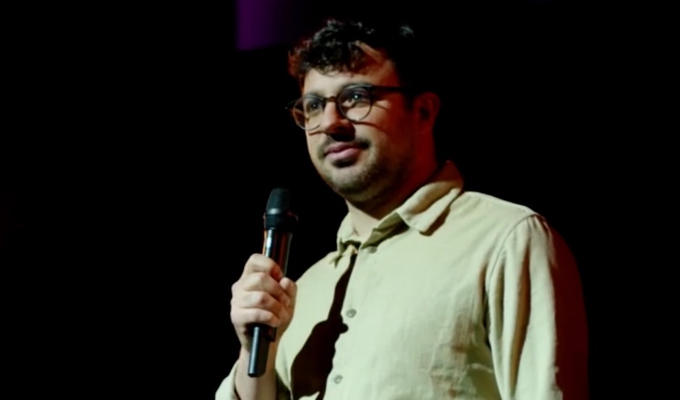 Simon Bird: Debrief
It's strange and unsettling watching Simon Bird perform his debut stand-up special to an empty theatre – and he probably wouldn't have it any other way.
For he fully leans into the socially awkward, smug and supercilious persona who would rather be right than popular, which certainly has parallels with his Inbetweeners alter-ego.
And it's his success in the E4 comedy that has made a necessity of performing in a vacuum, more than any coronavirus. Bird paints a personal nightmare of how his stand-up career could have gone had he embraced it sooner, performing to crowds yelling TV catchphrases and insisting on rowdy selfies in the bar afterwards.
He plays around with the peculiar nature of his first dalliance in stand-up since his previous peak of Chortle Student Comedy Award semi-finalist 2008. In Debrief – aptly recorded on April Fools' Day this year – Bird describes himself as a 'majestic sauvant', insisting that he's more than capable of taming the most riotous bearpit of a venue, but gives the clear impression he doesn't want to sully the purity of his highfalutin material by cravenly pandering to what audiences might actually want to hear.
Honing an act over months on the road would to be to cheapen the purity of his intellectual ambition. In his comic delusion, he is so much better than the great unwashed, so why not take them out of the equation?
Bird is excellent playing along with the unique nature of this literal one-man performance, as well as his own arrogance . But the air of detachment is definitely offputting, and its echoing silences can make Debrief feel more like an experimental art-house movie than a stand-up special.
So while Bird's writing is sharp and inventive, absorbing it this way can be almost as much as a 'slog' that he jokes it is - the running joke that bringing joy and cheer is beneath him going only so far. There's no escaping fact the material probably could have benefitted from some contact with the audiences he feigns such contempt for before its exposure on All4.
Sarcastic political points are made heavily-handedly, as are the ironic sexism and homophobia… though this may be out of an understandable concern not to be misunderstood. These are established comic tropes, as indeed is the superior contempt for hoi polloi audiences, but for most of the 45-minute routine Bird is drawn to more original notions.
With an undisguised intolerance for the absurdity of positive thinking, Bird brings cold logic and inconvenient truths to demolish sentimental ideas of doing good, such as charity parachute jumps, commemorating animals who have fallen in war and the gallantry of medieval knights. The factual basis of such takedowns will probably stay with you longer than the punchlines.
Given a determination to seek out unusual starting point means it comes as a surprise when he does a bit about clocks being sold showing the time of 10 to 10 – although he takes a different route than Dave Gorman's definitive routine on the topic.
While Debrief is flawed, it has probably hit Bird's objectives of establishing his stand-up voice away from his TV fame and giving audiences a taste of what they might expect if they come to see him - rather than 'briefcase wanker' Will McKenzie - on a real stage.
And the final word has to go to the ever self-aware comedian himself. Observing that recording his first stand-up routine to an empty room with no warm-up gigs is something of a test, he concludes: 'I've nailed the theory, but I've let myself down on the practical a bit.'
• Simon Bird: Debrief is available now on All 4.
Review date: 14 May 2021
Reviewed by: Steve Bennett
Recent Reviews
What do you think?