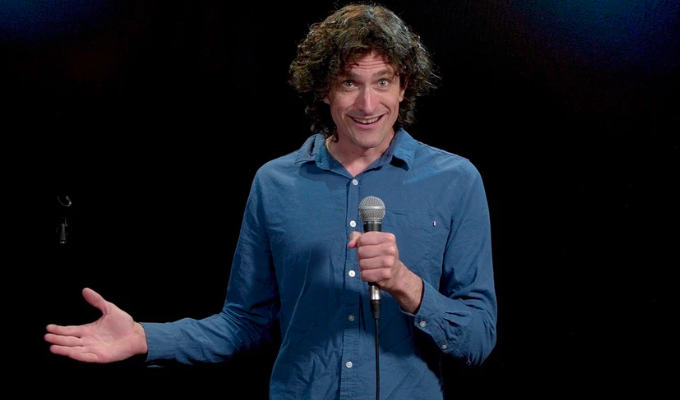 The Preacher, by Anthony Noack
It sounds like the sort of thing a trendy RE teacher would come up with. 'You like stand-up? Well you know who else was a bit like a stand-up comedian? Jesus…'
In The Preacher, which is being presented as part of the Brighton Fringe, Anthony Noack performs the Book of Ecclesiastes as if it were a comedy gig.
His aim is to investigate the parallels between stand-up and an evangelist - a link anyone could see from a few moments of Bill Hicks, George Carlin or Tommy Tiernan at their fieriest, without needing this strained hour of Biblical text.
Noack takes the form of a comedy rookie, with only a few minutes' of material to his name and an awkward, detached delivery - heightened by the fact this has been filmed in an empty Covid-secure room, sans audience. As a producer on Australia's Raw comedy competition, he's surely seen enough nervous newbies that we can give him the benefit of this doubt that this stilted performance is character work.
The comic is called Dave Davidson – a nod to the original Old Testament text, which comprises the thoughts and philosophy of a man identified as 'son of David'. Noack doesn't adapt these 2,500-year-old writings much – talk about old material! – instead just tweaking the King James translations here and there and adding the phrase, 'what's the deal?' very liberally just to labour the stand-up premise and emphasise the philosophical nature of the material.
A few new jokes garnish the text, but you would't waste a tablet of stone preserving a punchline like 'God works in mysterious mayonnaise' for posterity. In one moment of off-testament self-awareness Noack/Davidson notes: 'It is actually quite hard to find a punchline for timeless truths.'
The Preacher makes the point that the ancients had concerns that resonate with thinkers today. Ecclesiastes ponders that more knowledge equals more sorrow, that sorrow makes the soul more rounded than a life frivolous laughter, and that the universe is random and unfair as fate favours the wicked just as often as the good. And in a line sure to flatter reviewers, he muses: 'It is better to hear the criticism of the wise than to listen to the flattery of fools.'
But it feels as if Noack's missed a trick in not hiding the Old Testament points in contemporary stand-up. The Preacher does little to disguise the fact this is an hour-long Bible reading, but that means rhythms that do not sit comfortably on modern ears delivered via a stand-up persona that misses the fundamentals of projecting a strong personality and forging an honest bond with the audience.
Chalk this up as an interesting experiment, more than a successful one.
• The Preacher is being streamed as part of the Brighton Fringe from today until June 27. Pay what you want, minimum £4.
Review date: 28 May 2021
Reviewed by: Steve Bennett