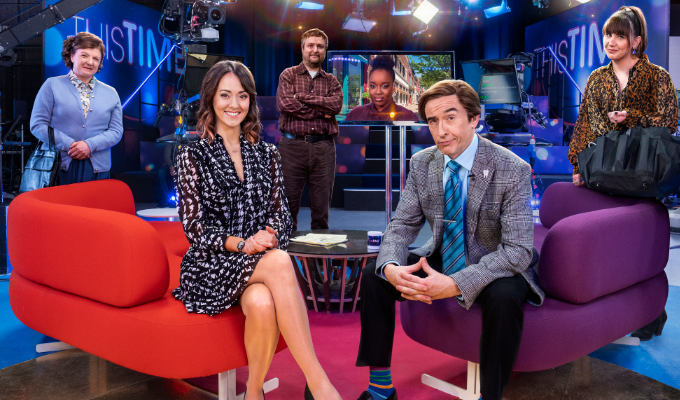 This Time With Alan Partridge series two
Without getting too political about it, Alan Partridge is the epitome of the white guy whose career success exceeds his mediocrity… and who might just now be starting to feel under threat.
That's the undercurrent of the second series of This Time, which sees the largely unselfaware host still at the reins of the BBC's daily magazine show alongside his ever-patient co-host Jennie Gresham (Susannah Fielding), with the disciplinary matter that brought the last series to a close now long-forgotten. But there's a new producer in town, fresh from E4, and - horror of horrors - he's introduced a 'wacca-wacca' to the theme tune, which is a sure harbinger of change likely to be bad news for Partridge.
As before, his weakness are exposed in every scene, from Gresham's contrasting professionalism and subtlety, to in-the-field reporter Ruth Duggan (Lolly Adefope) passive-aggressively correcting Partridge's lax language. Most clearly showing up Alan's forced on-screen demeanour is the effortlessly charismatic Sam Chatwin (Simon Farnaby), making a welcome return.
Not that Steve Coogan's alter-ego needs someone to expose his weaknesses, as he's more than capable of doing that himself, as proved by the cringe-inducing interview which a body-language expert (Leila Farzad) which quickly descends into awkward mansplaining - with an hilariously cheesy 1990s-style corporate video from Alan's past thrown in for good measure.
His misplaced authority and faux, inelegant gravitas is further demonstrated in his film about visiting a silent order of monks at their monastery, where he doesn't exactly share their divine serenity… and especially not the bit about suppressing the ego.
Continuing the theme of out-of-their depth incompetence, Tim Key's Simon Dent has a slightly elevated role this series as This Time's 'resident humorist', even if the character's wit is laboured – and he's still unable to use the giant touchscreen. This running gag from the first series might not really be worth revisiting, but Key's underplayed depiction of clumsy bonhomie is a huge asset.
Because This Time is so heavily built on the comedy of cringe, the show often has a strange energy - certainly for a primetime BBC One sitcom - which is heightened by everything from Alan's ill-at-ease persona to the off-air camera shots, capturing the stars at the most unnatural angles. It's not exactly the most relaxing comedy to watch, but there are comic gems in the rich feast of awfulness.
• This Time with Alan Partridge is on BBC One at 9.30pm tonight
Review date: 30 Apr 2021
Reviewed by: Steve Bennett
Recent Reviews
What do you think?