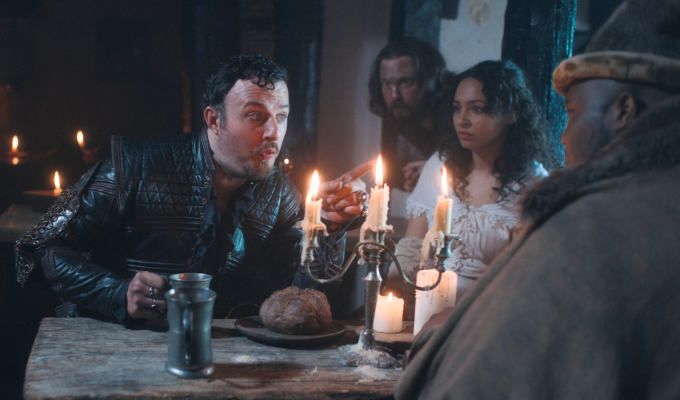 Don Rodolfo
It's a big week for 2018 Edinburgh Comedy Award winners. At the weekend, Rose Matafeo's romcom Starstruck arrives on iPlayer, while tonight the TV adaptation of Ciaran Dowd's best-newcomer-winning Don Rodolfo hits BBC Two.
On screen, the dramatic escapades of his legendary Spanish swordsman and lothario remain as intimate as they did in a sweaty Pleasance Portakabin. Our 17th century hero, seeking temporary escape from the Catalan army, swashbuckles his way into a dingy tavern where his loyal squire Burke (Jayde Adams, almost unrecognisable in sackcloth rather than sparkles) awaits.
While awaiting the inevitable bloody showdown, he regales the rough-hewn regulars with tales of his derring-do, single-handedly seeing off an army of hundreds after a misheard conversation.
The extravagant boasts are somewhere between Chuck Norris memes and Rik Mayall's Captain Flashheart at his most boastful, thought the tone is more underplayed – and the story frequently undermined by the inn's regulars. For it's soon clear that the charismatic Rodolfo something of an idiot, as well as a hero. An obvious parallel is with The Princess Bride, a witty postmodern take on a mythology - which includes his native Irish brogue heavily impinging on his Spanish accent - without sacrificing the rollicking drama.
Viewers should stay alert for the many gems of wordplay and comic absurdity almost thrown away in the efficient script which Dowd co-wrote with Pappy's sketch performer Tom Parry, the director of the original live show.
But while Don Rodolfo is a satisfying snack, a one-off 12-minute short feels something like an an oddity for TV, not quite sure of its place beyond a Mock The Week appetiser.
Expanding its length, or commissioning more episodes, might expose the limitations of what's essentially a one-man storytelling format, even if that one man is a performance powerhouse. Rodolfo needs a whole world to conquer, not just the attention of some tavern drunkards.
• Don Rodolfo is on BBC Two at 10pm tonight.
Review date: 22 Apr 2021
Reviewed by: Steve Bennett
Recent Reviews
What do you think?