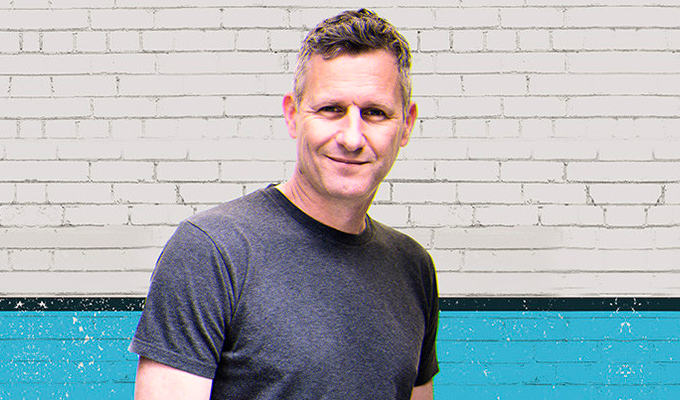 Adam Hills: Shoes Half Full
Adam Hills had intended to bring his brilliantly titled show about positivity to last year's Melbourne International Comedy Festival before global events intervened. Now, having spent almost all of the last 12 months in various levels of lockdown he's ready to unleash his pent-up rage on the world.
Just kidding - of course he isn't. Hills has one of the warmest, most affable stage presences going, and he isn't about to let a global pandemic temper that nice-guy persona or the through-line of his latest set: that there's too much shouting going on in the world and everyone needs to calm down and take a breath.
Not the most revelatory message perhaps, but a commendable use of the platform that Hills has built for himself as a household name in Australia and the UK.
A self-described '50-year-old idiot', Hills wrestles with his understanding of trans issues, following up some mildly dicey dad jokes on the topic by specifically calling out Anna Piper Scott's outstanding MICF show, Queer And Present Danger, about her trans experience and how it helped enlighten him.
He also marvels at Islamophobia and particularly its prevalence in areas with no exposure to the religion and its adherents. Never hectoring or patronising, Hills makes smartly constructed pleas to members of his audience unwilling to engage with either topic to make some room for demystification.
Elsewhere, there's some obligatory Covid material, powered by typically pristine crowd work, musings on the ethical dilemmas of playing in a disabled rugby league team (based on the reaction of the audience when he revealed his prosthetic leg, apparently not everyone is aware that Hills was born without a foot) and some above-average 'kids say the funniest things' gear. Not the most challenging material – a recurring rhyming bit strays the wrong side of twee – but certainly crowd-pleasing and expertly delivered.
Even when engaging with weightier cultural issues, Hills maintains a light touch, and while the bedrock anecdote about how we need to say no to the noise sometimes (which features a mariachi band) doesn't totally work, it's certainly memorable.
Overall, plenty to be positive about.
Review date: 9 Apr 2021
Reviewed by: Patrick Horan
Recent Reviews
What do you think?