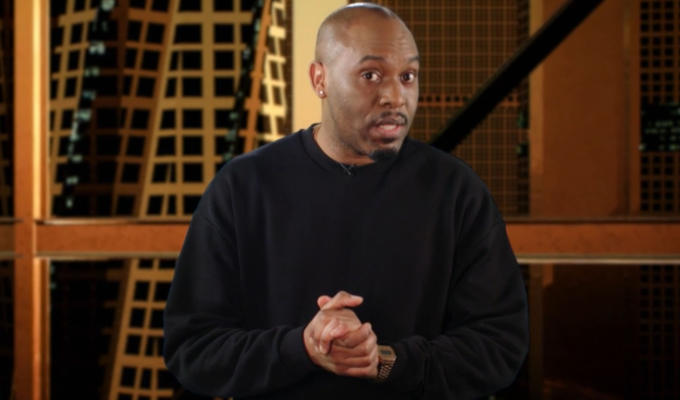 Bamous
It's long been a running joke that British TV operates a 'one-in one-out' policy when it comes to allowing black comedians to become famous. But don't blame comics for continuing to crack jokes about waiting for Lenny Henry to die to get their shot, blame the system that means the line is as true today as it ever was.
That same premise is the jumping-off point for Bamous, Dane Baptiste's tart take on black representation in the media. His notion is that there's a mythical stock index for black talent, the Nasblaq, which is near impossible to get on to, and very easy to crash out of.
It's not the sturdiest of frameworks, and the contrivance notably strains with a recurring skit about a helpline used by white celebrities desperate to get on to it. But the device serves well enough as a way of linking some strong, relevant and decidedly pointed sketches liberally laced with acerbic attitude. And first up is a satirical scene redolent of W1A that depicts a BBC rife with white executives' tokenistic attitudes – a point that's further underlined when imagining if the tables were turned.
In his introduction, Baptiste more directly makes the point that any show with more than one black star is dubbed 'niche' and banished to the outer reaches of the schedules – the irony, of course, being that he's calling this out on an iPlayer one-off that will get its terrestrial outing at 10.45pm next Tueday.
Elsewhere in his stand-up-like sections he challenges the notion that he must represent the entire black community and mocks the 'white lens' through which so much of the establishment sees the world. He's funniest in a quickfire section detached from the Nasblaq conceit when he sarcastically answers 'some of the more ridiculous questions I hear all the time - in the manner which they deserve'.
In this timely show, Baptiste is backed by a strong range of black talent both on screen and off. Thanyia Moore offers a wry monologue on celebrity news stories; the quirkily droll Toussaint Douglas offers a Countryfile spoof that's less politicised than the rest of the show but no less funny; and Munya Chawawa fuels his already fast-rising stock with a run-through of some of the most enduring bigoted opinions still to be gracing our screens.
Laurence Fox might want to look away now – even if he's just the sort of person who'd do well to learn from this barbed half hour of gammon-bating, which hits the laughs almost as often as it hits the nail on the head.
More than that, however, it showcases just a fraction of the talent available if TV producers looked beyond the same old faces for all their comedy needs.
Review date: 12 Jan 2021
Reviewed by: Steve Bennett
What do you think?