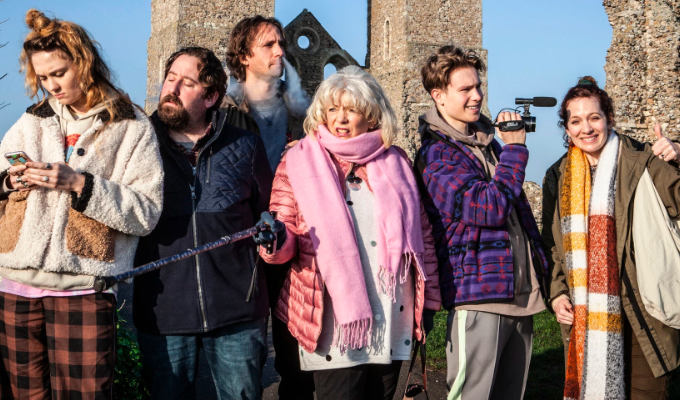 Pandemonium
As what's hopefully a once-in-a-lifetime disruptor, the coronavirus pandemic is an unusual hook for a sitcom's pilot episode. Lockdown is certainly not a 'sit' you'd want to return to time and again.
But Pandemonium is proof of the maxim that the characters are more important than the setting for any comedy. So while the events of the past nine months are how viewers are introduced to the Jessop family, there's a longevity in their relationships that should sustain more conventional storylines.
It takes very little time for the viewer to feel like they know all these characters – aided, no doubt, by the number of instantly recognisable comedy names in the cast. Katherine Parkinson is the mum, Rachel, trying to hold the family together, whatever it takes. Alison Steadman's gregarious grandma Sue isn't so far removed from her Gavin & Stacey role as Pam Shipman, albeit with a more passive-aggressive edge. And as dad Paul, Ghosts' Jim Howick tries to be upbeat and on everyone's side - however awkwardly his attempts come off.
'Awkward' is probably the one adjective to best describe much of the dynamic of the show, written by Tom Basden and filmed in a mockumentary format, thanks to son Sam (Jack Christou) obsessed with recording all that happens to the family.
That's how we come to see the family toasting all the great events they had to look forward to in 2020, including a major holiday to Florida. There's talk of some new virus on the news, but Paul dismisses it as mere 'clickbait'. Jump-cut to October and they are all bound for the icy drizzle of Margate instead: the colour drained from the screen just as the enthusiasm is drained from their faces.
Various flashback depict familiar scenes from lockdown, such as a Clap For Carers after the initial shine had worn off, and student Amy (Freya Parks) complaining about paying £9,000 to learn online. These have, of course, been tackled in some comedies this year, but incorporated into a traditional sitcom rather than some Zoom approximation of one, provides a bit more bite.
The ensemble cast has some echoes of Two Doors Down, especially via the character of Cherry (Tori Allen-Martin) – though an image-obsessed, status-conscious social climber is hardly exclusive to the underrated Scottish show. She's in an unlikely relationship with the perpetually ill-at-ease and downcast Robin, as played by Basden himself.
All the various character flaws and possible interactions between the leads, offer the potential for Pandemonium to be almost a homegrown version of that other domestic mockumentary, Modern Family, with a lot more down-to-earth British realism.
Even without the life-ruining spectre of Covid, Pandemonium's verité format, filmed through the grey fug of a desolate off-season resort, means the Jessop's world is seen through a grimy prism of disappointment. But what could be more British than trying to get though grim circumstances with whatever wit can be mustered?
• Pandemonium is on BBC One at 9.45pm tonight
Review date: 30 Dec 2020
Reviewed by: Steve Bennett
Recent Reviews
What do you think?