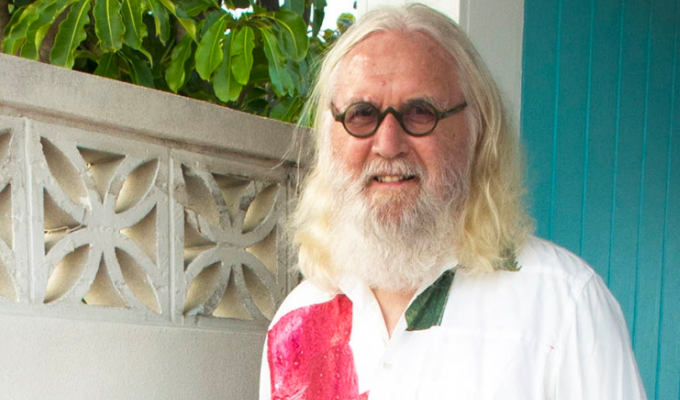 Billy Connolly: It's Been A Pleasure
Advance press coverage of ITV's Billy Connolly retrospective portrayed it as an emotional milestone marking the end of his career, cut short by the cruelties of Parkinson's disease, with tearful celebrities paying heartfelt tribute for the camera. It suggested this might be a mawkish affair, an obituary before its time, mourning the loss of a comedian once so full of life.
Fortunately, it was no such thing, in the main. Like the Big Yin himself, this 75-minute special focussed on joy, with plenty of examples of his comic brilliance amid the obligatory line-up of talking heads.
And what an assembly of A-listers lined up to appear, with contributions from the likes of Paul McCartney, Dustin Hoffman, Whoopi Goldberg and Elton John, who called him 'the first rock star of comedy'. And while they occasionally touched on the obvious - such as likening Connolly to 'your funny mate on stage' – they primarily offered first-hand anecdotes. Sir Elton booked the comic to open for him in the US – it didn't go well – then Goldberg properly introduced him to American audiences via an HBO special.
Russell Brand, dropping his Artful Dodger bombast for a change, offered astute words on Connolly's instinctive craftsmanship, likening him to a poet rather a 'mathematician' comedian such as Jerry Seinfeld.
Connolly is the Platonic ideal of a modern stand-up, with an act defined by his personality and attitude and an innate, rather than learned, sense of funny. The entire art-form of stand-up has taken shape in this country thanks in no small part to his pioneering work wresting the genre from the frilly-shirted gag-merchants.
Producers here, including two of his daughters, wisely realised that the best tribute of all is to let the comedian's work speak for itself, and included plenty of extended stand-up routines, not just the truncated snippets you often get in programmes such as this. No one can be unhappy watching Connolly on peak form.
His material show just how keenly attuned he is to the absurdity of human failings, once you strip away flimsy niceties, and his powerhouse, yet naturalistic, performances are a masterclass in physicality and characterisation. He said that his own favourite routine was the one about wildebeest, and we saw enough of it her to appreciate the genius of the delivery, personifying the animals of the African savannah in a perfect amalgam of the absurd and the everyday.
Connolly's wife, Pamela Stephenson, also appeared from the Florida home where they now enjoy a relaxed way of life, and offered a little glimpse into his psyche, revealing - for example - that for all his experience he still got nervous before going on stage because he doesn't prepare… leading to anxieties that the muse might one day desert him.
Such insight was relatively limited, as was biographical details, hinting at the brutal upbringing he escaped through music and comedy but not delving too deeply. But one routine showing Connolly turning trauma into laugher spoke volumes. The comedian has covered his past in his frank memoirs, and Stephenson said another volume is in the works.
Yes, at 78, he won't be on stage and more, and yes, there were a few emotional minutes at the end where that loss was noted – with Connolly especially touched when the tributes were shown to him.
But It's Been A Pleasure – his usual words to sign off a stand-up gig – was so much more about what he brought to the world that what we've lost by his retirement. 'I wanted to be a funny man, and I got it,' he said. 'To see [an audience] crying with laughter is a privilege. Now it's time to stop and I'm happy where I am. I've got no complaints at all.'
Us neither.
• Billy Connolly: It's Been A Pleasure is available on the ITV Hub.
Review date: 29 Dec 2020
Reviewed by: Steve Bennett
Recent Reviews
What do you think?