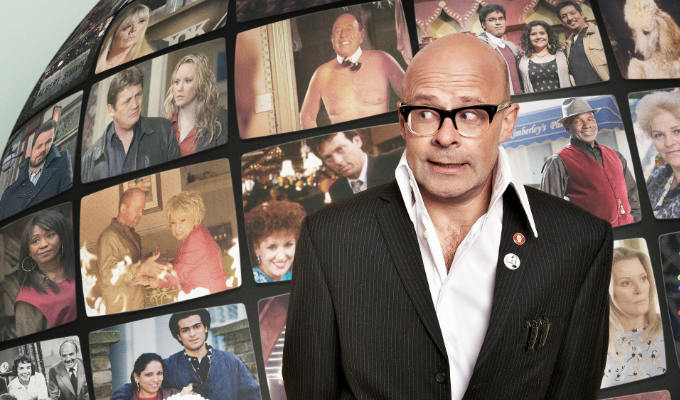 Harry Hill's World Of TV
Where have we seen this before? Harry Hill offering his surreal commentary on scenes from television…
But Harry Hill's World Of TV differs from the phenomenon that was TV Burp in several ways. Firstly, rather than trying to filter the whole week's new broadcasting output - of which there's very little at the moment, of course – he's offering an overview of a genre, mocking all the tropes therein.
Hill's on familiar turf with the first subject, soaps. He covers long-forgotten pioneers, enduring hits and short-live flops (hola, Eldorado!). He comments wryly, but stupidly, on the extreme flammability of their pubs or the limited dialogue of Danny Dyer, all presented as a tongue-in-cheek guide to how to make programmes.
The second, more crucial, difference from his ITV hit is that there is no studio audience, and therefore none of the guests or daft stunts that defined it. This is almost entirely commentary in voiceover, which means quite a lot of Hill's ebullient playfulness is lost.
When he's making up fake news about vintage footage, you could almost mistake this for Matt Berry's Squeamish About, another BBC Two comedy lockdown commission. But the truth is often funnier than the nonsense even Hill and his writers can conjure up, especially the strange public-information-film-style scene from early soap The Grove Family devoted to the mechanism of a mortice lock. You can't say Hill and his production team have skimped on research.
There are plenty of funny gags and observations, always affectionate towards his topic, and soap fans won't be short of in-jokes,. But the voiceover approach makes the comedy seem more detached, less engaging than Hill's studio work. Like so much during lockdown, this seems like too pared-back a version of what could be brilliant, though there are enough quirky gags to ensure it's entertaining.
Review date: 23 Aug 2020
Reviewed by: Steve Bennett
Recent Reviews
What do you think?