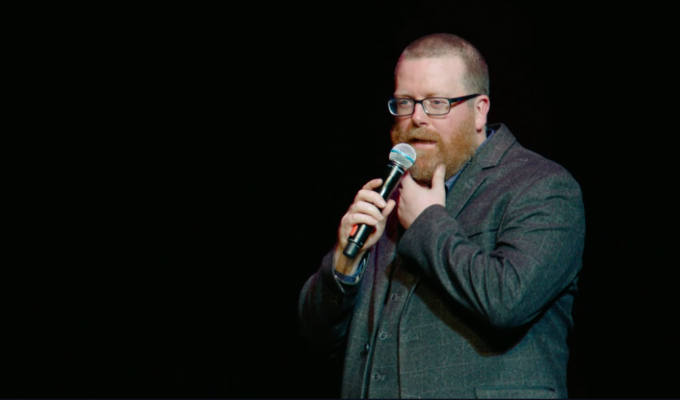 Frankie Boyle: Excited For You To See And Hate This
Of all the sentiments that follow the trite contemporary cliché 'now, more than ever…', the most unarguable is probably that we all need cheering up. In broadcasters' eyes, what that normally means is inoffensive entertainment fare like Peter Crouch doing keepy-uppies between inspirational stories of pensioners knitting their own sourdough for the NHS.
Thank the gods of comedy, then, for Frankie Boyle, representing a more astringently cynical point of view, making no attempts to sugar-coat the bleak state of the world. Instead, he allows us laugh blackly at uncomfortable realities, rather than diverting us from their existence.
His new 45-minute special, Excited For You To See And Hate This is nihilistic, sweary – the very third word is the C-bomb, bold for the BBC at 10pm – and uncompromising. And, for all those reasons, very funny.
Towards the end of the show, recorded in his native Glasgow pre-lockdown, the stand-up takes on the topic of comedy itself, with swipes at Michael McIntyre, Mrs Brown's Boys, Ricky Gervais's joke at the expense of trans-women and, more positively, a plug for Hannah Gadsby's phenomenal Nanette.
While offering a more nuanced take on the division between free speech warriors and politically correct 'snowflakes', Boyle makes a very astute comment about own approach. His gags, he notes, bring tension in the punchline – and that flies in the face of the conventional wisdom that a gag is a release of pressure.
So his jokes are hard-hitting - he ends with a bruisingly harsh gag about 'dead, fucked kids', after all – but also much more than that. Every would-be edgelord with a paedophile quip should heed the way Boyle describes the thought that goes in to his writing, hoping try to challenge perceived wisdom, not just confirming it.
He hasn't always got it right, of course, but he dismisses the flak he got for his joke about Rebecca Adlington on Mock The Week as ultimately trivial when there's so much wrong in the world. He remains silent on the less defensible, and more notorious, gag about Katie Price's son, mind.
But of course he has a strong flavour of comedy, undiluted by tilting away from easier targets these days and enhanced by his strong streak of misanthropy. 'People think I'm depressed,' Boyle protests, noting that nothing could be further from his mind than suicidal thoughts. 'I don't wish I was dead. I wish you were all dead.' It's a big difference.
While his brutal, no-nonsense attitude cuts through any noise, Boyle's strength has always been an A-grade gag-writer, and there is a surfeit of brilliantly precise lines here.
Borderline hack premises such as 'who was gayer than Jesus?' are invigorated with a fresh take, while his attacks on power and privilege are distilled into hard-hitting punchlines. And there are even silly, flippant, puns that have him giggling infectiously.
For the master of the savage one-liner, stomping on sensibilities, Boyle remains deeper than his vicious reputation, with complexity of thought and a surprising variety of material, of which the nastier lines are but one part, crucial as they are
• Frankie Boyle: Excited For You To See And Hate This is available on iPlayer.
Review date: 24 Jul 2020
Reviewed by: Steve Bennett
Recent Reviews
What do you think?