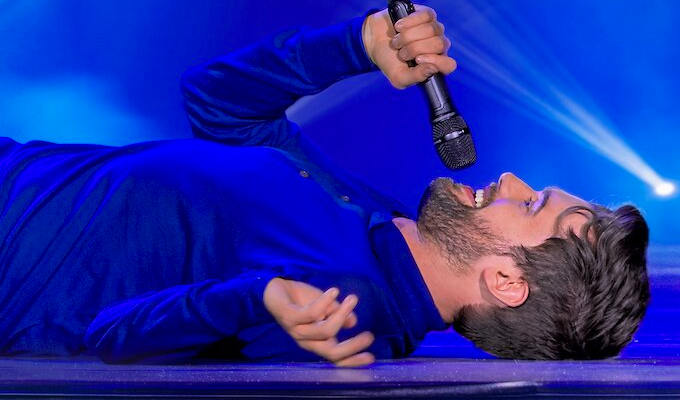 Jack Whitehall: I'm Only Joking
During a mini-rant about vegans in his new special, Jack Whitehall acknowledges that he's going after 'low-hanging fruit'.
But it's not just one throwaway line about meat-deniers being physically weak that fits this category, but large swathes of this uninspiring show. For a venture which must have grossed millions, thanks to Netflix's largesse and the thousands who flocked to see it live in high-yielding arenas last year, I'm Only Joking has all the signs of being hastily dashed off between all Whitehall's many, many other projects.
Hack gags abound. The Royal Family? They are benefit spongers. The cheer that greets his question 'any Americans in?' is countered with a 'Please don't shoot!' followed by an observation that Britain might have village idiots, but the US made theirs president.
Then there's the observational stuff asking what's the deal with hotel conveyor-belt toasters or all the options you have in coffee shops. This is amateur-night stuff, played out on the Wembley stage, bland and impersonal. Occasionally Whitehall makes it funny despite the lack of ambition, such as a routine about an unnerving sign in the hotel swimming pool, but even this feels over-extended.
American comic Alex Edelman is named as a 'stand-up consultant' in the end credits, a euphemism for 'writer' if ever you saw one. WC Fields is also probably due a royalty for one ancient line. The irony is that Edelman's own shows put this by-the-numbers guff in the shade.
There are, however, a few flickers of originality. After a while, Whitehall inches cautiously into more personal territory. The miserable truth of the 'bachelor lifestyle' he lives after a break-up adds a shade of reality to his entitled life, though he doesn't dwell. Similarly a potentially insightful thread about how society is generally suspicious of those who exercise self-control is only lightly touched upon.
And, of course, father Michael makes cameo appearances in the anecdotes, from his detached reaction to learning of shady ancestors on Who Do You Think You Are? to the climactic routine about a physical indignity on a tour of Chernobyl. A filmed post-script reveals there's some truth in the yarn Whitehall spins.
The comedian's winning personality is really what's being sold here, especially his acknowledgement of privilege and cheery self-deprecation. This is best evidenced in a routine about going through airport security while high, which amuses even if it doesn't quite have the ring of truth, as it's just a bit too polished, a bit too conveniently slapstick.
Whitehall certainly sells the material hard, even if some of the big performances for the arena setting are less well-suited to the intimacy of TV. His fans - of whom they are many - seem to care little about any unimaginative content, lapping up everything, and giving a standing ovation at the end.
But the main take-away is the dispiriting feeling that for all his talents and likeability, Whitehall's really not trying that hard here, merely going thought the motions to collect the sizeable pay-cheque.
• Jack Whitehall: I'm Only Joking is available on Netflix from today.
Review date: 21 Jul 2020
Reviewed by: Steve Bennett
Recent Reviews
What do you think?