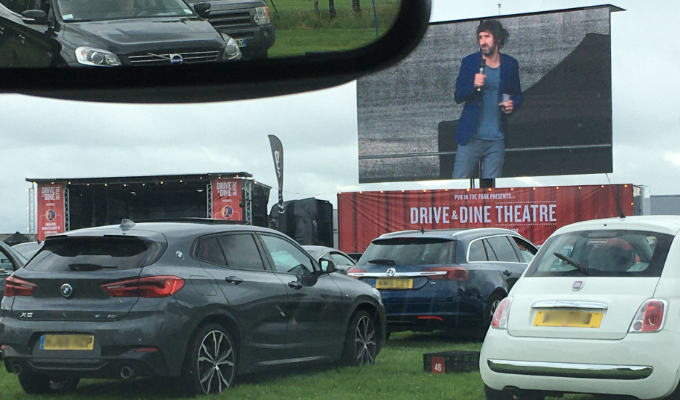 Mark Watson's Carpool Comedy
'This is not a perfect way to do comedy,' Mark Watson admits during the first of more than two dozen of his Carpool Comedy drive-in gigs.
Indeed, it's not. Denied the intimate, low-ceiling darkened venues where stand-up thrives, around 150 cars park up in a field next to Bath Racecourse in broad daylight, taking their spots in neat, well-spaced lines. The audience is sober and many don't even have a view of the stage. Like a festival, we all rely on the big screen, with audio delivered - slightly out of sync - to the speakers provided.
When the rain comes, the screen becomes obscured and even the sparkly jacket of headliner Ed Byrne becomes a fuzzy blob. Any more subdued clothing is almost impossible to pick out.
More crucially, what's missing is the very purpose of live comedy, to bring people together socially. Here we must stay apart, confined to our in-car bubbles. A comedian's gift of bringing a bunch of individuals together as a coherent audience is impossible to pull off.
Yet it works, kind of. There is a sense of community derived from the feeling that we all want this to work. We've been deprived of live entertainment for so long it just has to. Everyone beeps their horns appreciatively in lieu of applause or laughter. They could be heckling, Shappi Khorsandi supposes, given there's very little nuance to a honk, but it's nicer to assume the best. And more accurate. The sound usually linked with the angry, stressful frustration of a traffic jam in this topsy-turvy world is now what comedians crave.
Watson suggests that as an intrinsically nervous man, he's not the best equipped person to be hosting these shows. I'd beg to differ. He reflects the audience's concerns - 'there's very little else left in the world, so hopefully it's better than nothing' - and reassures us that it'll be fine nonetheless. He's also a master of working in the moment and building a community in unusual circumstances, as anyone who's attended his 24-hour-or-more shows will attest. And these are certainly unusual circumstance.
With a collective will of both performers and audience, all turns out for the good. The atmosphere, as much as it can be gauged, is good-natured. The event is very slickly run, with helpful staff everywhere. That might explain the substantial prices, of £35 a ticket and £11 for a veggie burrito, albeit one from chef Tom Kerridge who's behind the Drive And Dine tour this is all part of.
As a gig, this, even more than usual, is about the experience rather than the comedy. A couple of the acts displayed a certain rustiness, having gone more than 100 days without performing. In that time the world's changed completely, so any observational comedian is going to need a whole new set of jokes… but they've had no audience to hone them on. Even now, they have no laughter to feed off, to help them find their way to stronger laughs. Their job has changed completely too.
Khorsandi explicitly spoke about a lockdown devoid of adult contact, holed up with her seven-year-old and 12-year-old, which she mixed with some more tried-and-tested material, especially about tokenism.
Jess Fostekew was probably hardest hit by the lack of a usual crowd dynamic. Talking about such not-in-polite-company topics as farting and growing her pubes out requires a critical mass of shared recognition, and the anonymity of a crowd in darkness that the car-based format cannot provide.
But Byrne's observational routines resonated the strongest. Largely ignoring the weird circumstances, which had been well-covered by the time he took to the stage, he performed as if this was all perfectly normal, more than half a lifetime of experience giving him the instinct to know how to time the set.
Gags about the sarcasm defining his marriage, fatherhood ruining his life (and him ruining his kids), posh people and – going more esoteric - the shared Irish-Icelandic history all hit home smartly and efficiently, old pro that he is.
This was the first drive-in comedy gig outside of London, and there are tweaks that could be made: an interval seemed unnecessary and using Zoom to interact with previously selected audience members was a needless faff given the presence of broadcast-quality cameras and roving mics.
But the qualified success of this venture shows that comedy will find a way, no matter what, and that audiences are desperately craving laugh. As a different experience away from the same four walls of lockdown, Carpool Comedy is certainly memorable… even while serving as a reminder of the normality that still eludes us.
Review date: 10 Jul 2020
Reviewed by: Steve Bennett
Reviewed at: Bath Racecourse
Recent Reviews
What do you think?