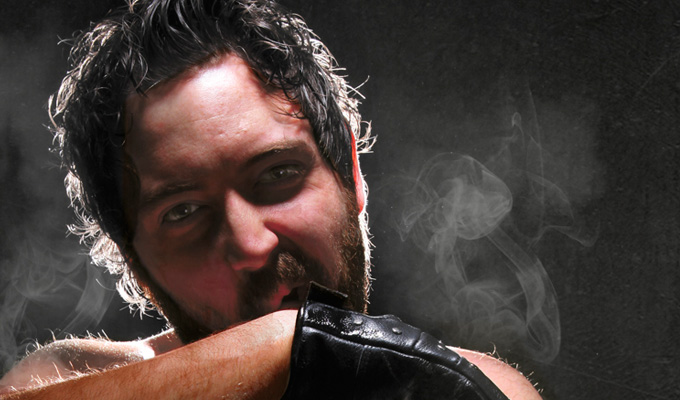 Nick Helm: All Killer Some Filler
There's probably no need to be reminded of all we're missing with live comedy on its enforced hiatus - but that's what Nick Helm's newly-released special provides in spades.
For while there might be comedians with sharper insights or more meticulously put-together jokes, very few put on a show quite like he does. And the barnstorming All Killer Some Filler – recorded at the Forum in Kentish Town, North London, in 2016 – is peak Helm, a sweaty, strutting, sometimes shambolic powerhouse of a presence, pulling out all the stops in the name of entertainment.
With all the spectacle of a full-on glam rock gig, he takes to the stage in Evel Knievel jumpsuit… although it's not long before he's down to his down to his spangly red budgie-smugglers. Within minutes he has the crowd chanting: 'Nick Helm is fucking amazing', the refrain of his theme song One Man Mega-Myth, which tells you all you need to know about a performer who doesn't know the meaning of the word 'demure' and the command he has over a room.
While Helm's last Edinburgh show put the spotlight on the insecurity behind the bluster, here the aggression and the swagger is full-on, even if there is a knowingness behind it. The moments before the show starts properly, for example, ar pure Spinal Tap as the introduction goes awry, fudging the distinction between what's deliberate and not.
But he's really a pro. Although his lyrics tend to be tongue-in-cheek, he doesn't scrimp on the songwriting, and the set list is banger after banger, from the arrogant desperation of Five Good Reasons to the punkish rage-against the world discontent of Wings or What The Fuck Is This? (with extra jokes in the PowerPoint slides behind him on this one). The show's title definitely underestimates the killer/filler coefficient, and the crowd – who are just the right level of rowdy to give the gig an extra energy – lap it up.
Of course, Helm has his heavily signposted jokes, all topped with over-the-top triumphalism of musical stings and explosive sound effects. But some of the songs are wittier than the overweening rockstar act would suggest. Such as No One's Gonna Love You, here sung as a duet with Rachel Parris, which is a savvy satire on relationship negging, set to a catchy melody.
For a change of pace I Did All For You has a Send In The Clowns vibe about the grim travails of a hard-working entertainer on the road; while No Survivors, as originally featured in the sitcom Uncle, is his Hey Jude, a show-shopping singalong it's impossible to resist.
Hundreds of people in a sweaty, beery venue chanting as one after a night of shared jokes and songs to fire your spirits from a high-octane performer. This special certainly makes you wish you were there at the time… and pine for the time we can do it again.
• Nick Helm: All Killer Some Filler has been released by Go Faster Stripe, priced £5 as a download. Buy it here.
Review date: 4 Jun 2020
Reviewed by: Steve Bennett
Recent Reviews
What do you think?