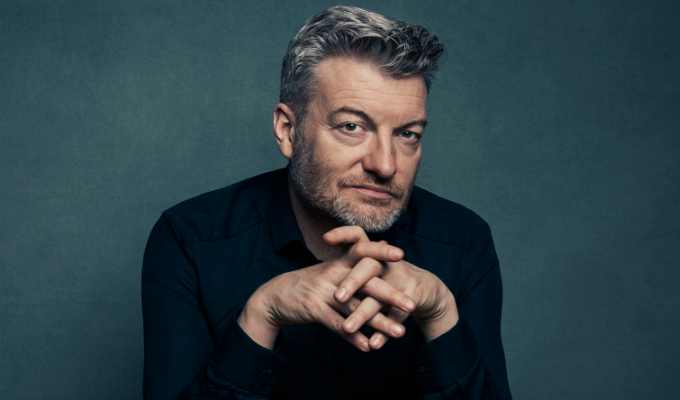 Charlie Brooker's Antiviral Wipe
There's no surer sign that the hairline cracks in the 'Keep Calm and Carry On' all-in-this-together, good-old British pluck response to Covid-19 has fissured into more open derision of government failures than having cynic-in-chief Charlie Brooker return to our screens.
A dose of his sardonic negativity proves a welcome antidote to all the political bluster and slap-a-happy-face on lockdown that's still the prevalent voice in media.
No sooner had he ladled scorn on 'Boris Johnson's magic bus' and its non-existent £350million for the NHS was it clear that Antiviral Wipe was going to be the sort of asentimental potted history of the past few months we've come to expect. And need.
There were a few minor changes. His desk was made of cardboard – a box a TV came in perhaps? – and his wife Konnie Huq and kids were roped in to help. Huq was also acknowledged as autocue operator and hair and make-up in the post-show credits that were testament to much behind-the-scenes multitasking.
After a brisk, nostalgic, look at when the news had more than one story – including a reminder just how weird Philip Schofield's coming-out, as dubbed by Holly Willoughby on This Morning, really was – Brooker launched into a brief history of coronavirus.
From behind his coffee table, bearing a Pandemic board game and a stuffed Tiger King, he offered astute commentary on the public behaviour and the media's reporting of it. Unvarnished honesty is his main comic weapon, reflecting, for example, on just how unengaged we were with the threat until it landed on our shores. And even for a bit after that if you were Boris Johnson, merrily skipping Cobra crisis meetings.
Barry Shitpeas and Philomena Cunk returned with their commentary, too. While admitting the government response to the pandemic might have 'sounded mental at first', to the easily confused mind of Diane Morgan's alter-ego, the government response made perfect logical sense. And that has to be worrying.
While her muddled explanations were as amusing as ever, her moronic Ali G-style grilling of a Professor Andrew Pollard, an immunity expert with the Oxford Vaccine Group, struck a slightly odd note. You can't help but feel he probably had better things to be doing than patiently indulging her feigned stupidity.
The pandemic has, of course, provided plenty of peculiar grist for Brooker's satire mill, from the virtual Grand National to the 'weird new gameshow' of the government's daily briefing, and his sardonic take reflected the views of a weary nation, if expressed more acidly and pithily than most of us could manage.
Yet there was just a small note of positivity, too, a recognition that for all the cynicism and pettiness the crisis has also brought out the best in us, the antithesis of the societal breakdown peddled by so many apocalyptic dramas – like, oh, I don't know, Black Mirror?
'There is more unity than dramatists like me might have expected,' Brooker conceded. 'Which is what we need.' The positive sentiment made him gag, or so he pretended.
Act your best, prepare for the worst, and call the bullshitters to account. That seems a good motto for our times.
• Watch Charlie Brooker's Antiviral Wipe on iPlayer.
Review date: 14 May 2020
Reviewed by: Steve Bennett
Recent Reviews
What do you think?