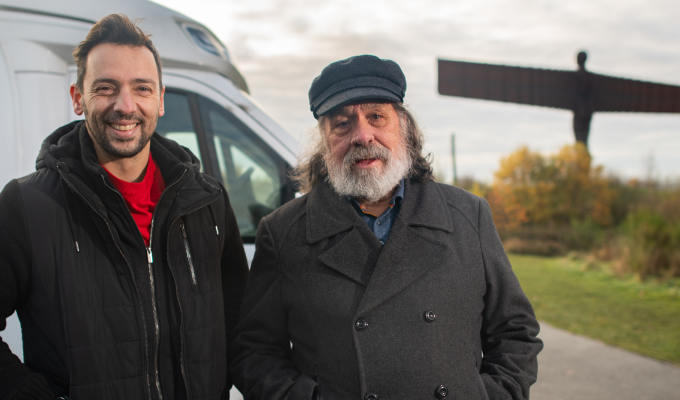 Ricky & Ralf's Very Northern Road Trip
It's impossible to top Ralf Little's own review of this new travelogue with his Royle Family dad Ricky Tomlinson as a 'two-bob version of The Trip'.
There are no Michelin-star restaurants on the Amalfi Coast on Gold's budget – instead, the actors share a Fish Supper in Blackpool with Mick Miller.
Nor is there any agenda to subtly explore bigger themes in the way Steve Coogan and Rob Brydon probed the nature of ageing and male friendship in their culinary adventures. The impetus might have been Tomlinson's recent 80th birthday, but Very Northern Road Trip is simple in its portrayal of two easy-going pals enjoying each other's company on a good-natured tour of the North of England.
'Why would you want to go anywhere else?' says Tomlinson rhetorically. But with coronavirus fears running high and the future of the travel industry in the balance, staycations like this is what we're all likely to be doing for our holidays, in the mid-term, at least.
They certainly make the verdant scenery of the Ribble Valley look appealing and celebrate the literal bright lights of Blackpool with nary a mention that the resort's glamour may have faded. There's not a touch of cynicism as they ascend the Tower, take a ride on the Pleasure Beach roller-coasters or find their names on the Comedy Carpet immortalised in… what, concrete? Their uncomplicated happiness is infectious – and in tune with what viewers are probably wanting right now.
While they are endlessly endearing company, a few of the segments feel like they've dropped out of a One Show-style magazine programme. Yet while we're meeting a man who's turned a disused mill into a craft microbrewery or the head of a soccer school that prioritises refugees, the disabled and the disadvantaged, our stars take a back seat, despite Tomlinson going full Mike Bassett on the touchlines. Nor do we learn much about the projects in these most superficial of encounters.
But when left to their own devices, just hanging out and finding their own fun this, pair's natural charm shines through this engaging series, proving that it's your company, not your destination, that's the key to the perfect getaway.
• Ricky & Ralf's Very Northern Road Trip is on Gold at 8pm tonight.
Review date: 11 May 2020
Reviewed by: Steve Bennett
Recent Reviews
What do you think?