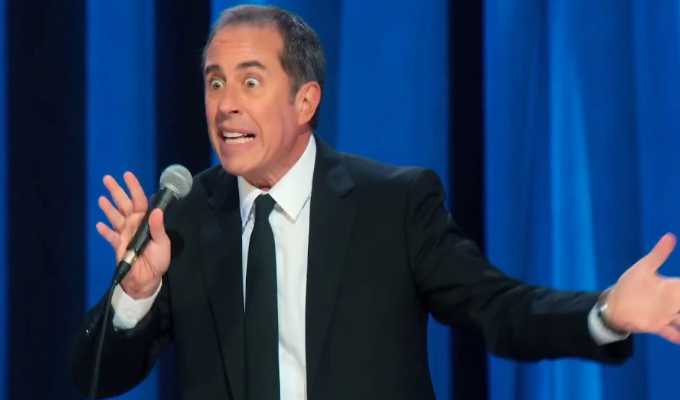 Jerry Seinfeld: 23 Hours To Kill
On the face of it, Jerry Seinfeld is not the ideal comedian for a pandemic.
He's the master of minutiae, a comic whose life is so comfortable that all he has to worry about are trivial irritations, which he brilliantly amplifies into major exasperations. But when everyone the world over has such big issues on their mind, is this not just a bit, well, privileged?
Maybe so, but actually 23 Hours To Kill – his new special which landed on Netflix today – proves a reassuring reminder of the bugbears and petty grievances that unite so many of us.
An early routine, especially, has an unforeseen resonance in lockdown, when he mocks our need to go out to gigs or restaurants to give arbitrary validation to our pointless lives. Even his own gig, recorded in New York's Beacon Theatre during a residency cut short by Covid-19, is described as a 'made-up, bogus, hyped-up, not necessary, special event'. He plays up the rigamarole of getting out the house, protesting that it's never worth it. But boy how we miss the palaver of going to those 'bogus' events now they are gone.
After perhaps the most daredevil opening of a stand-up special – plunging 40ft into New York's East River from a helicopter – the remarkably well-preserved 65-year-old plays up his curmudgeonliness, insisting 'nobody likes anything' and that 'everyone's life sucks'. Even his, he claims, although he does concede that his wealth cushions him from the worst of it.
'You know what I've done, you know what I've made,' he tells the audience, in acknowledgement of his elevated position. 'If you were me, would you be up here hacking out another one of these?'
Like everything in his act, the gag is that he protests too much. He's on stage because it's in his blood, and he clearly loves it. Why else would the show title be a nod to the aimlessness felt between gigs. He surely doesn't really think everything is so awful, either – his much-imitated delivery is of exaggerated irritation, not the real deal – but we're all indulging in the same idea, united in playing the game.
In 23 Hours To Kill his grumbles range from mobile-phone dependency to golf fanatics, portable toilets to non-portable toilets. No subject that's especially unique – but with Seinfeld, the joy is always in the detail of the observation and the writing.
In describing, for example, how we might scroll idly through a list of contacts on our phone, he exposes universal behaviour with a metaphor that's beautifully vivid and ruthlessly efficient. It's one perfectly judged sentence that says it all, so he barely needs to bother with the ensuing act-out.
Yet while that is so delightfully economical, in other routines he revels in repetition, creating rhythms from each iteration, and melodies from the slight deviation from established phrases. On a technical level alone, he remains masterful.
Halfway through the special, Seinfeld pauses to sup his water and tell the crowd: 'Let's change gears and come into "Jerry's little world"', a suggestion that he's going to share personal detail about marrying lateish and being a father of three.
Despite how he frames this section, Seinfeld does not do inward-looking. What is set out as intimate is, ironically, the most generic part of the show. Playing up the perceived differences between men and women, he paints a familiar, even tired, image of a marriage where the hapless husband has to watch what he says while the wife's itching for a fight, drawing on an encylopaedic memory of every previous conversation and argument to make her case.
This picture may be clichéd because it's rooted in truth, but while Seinfeld can always find an excellent way of putting things, he can't quite make this well-ploughed territory his own, as he does in so much of the rest of this classy hour.
But as his gaze swings outwards again, he hits upon more hilarious routines for the home straight. Perfectly pitched diatribes pick away at the self-absorption of the golfing dad or the design flaws in shared public toilets with taut, sharp outbursts of perfectly exasperated phrases that instantly evoke wonderfully comic imagery. All of which is surely more than enough to transport you away from the more significant concerns in life.
Review date: 5 May 2020
Reviewed by: Steve Bennett
Recent Reviews
What do you think?