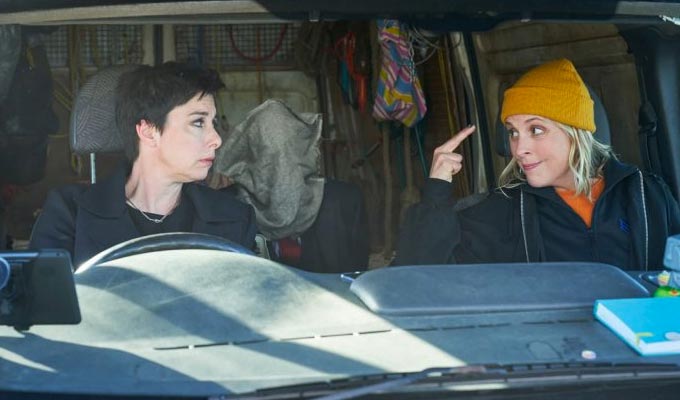 Hitmen
Any Bake Off fan tuning in to Hitmen to see those two nice ladies with the cheeky double entendres will be in for a rude awakening. Because for their first scripted comedy together, Mel Giedroyc and Sue Perkins play against type as a couple of stone-cold assassins operating with some skill in the criminal underworld.
The brutality of their job, however, contrasts with their general affability. Even in the opening scene they agree to give their target a sporting chance, although it doesn't quite go to plan.
They spend most of the episode bored, as they await instructions on what should be done with the crooked lawyer they have bound and hooded in the back of their van. Turns out it's Fran's (Perkins's) birthday, and her partner wants to throw her a party – but as they ring round, it emerges that they have no other friends willing to come. All they have is each other – which is where the chemistry the stars forged from a three-decade-plus comedy partnership shines through.
Imagining the mundanity of day-to-day life for those with such extreme, bloody jobs is the stuff of Tarantino movies, but this is a more British and more comedic take. However, the tone is uneven, not just between the drama and the quips. Most notably, the credible performances of our antiheroines contrast with the more over-the-top – and wonderfully funny – antics of some of the supporting cast, such as Nick Mohammed's cameo as a human spider (don't ask) and Chabuddy G star Asim Chaudhry as an energetically cheery rival assassin.
Yet while Hitmen isn't perfect, the likability of its stars, the intrigue of their situation and the unpredictability of the oddballs that come into their orbit make offer intriguing possibilities. With a slightly patchy script, Hitmen might need more time to find its feet before it's a real killer comedy – but it's probably still worth a shot, pun very much intended.
• Hitmen is on Sky One at 10pm tonight.
Review date: 25 Mar 2020
Reviewed by: Steve Bennett
Recent Reviews
What do you think?