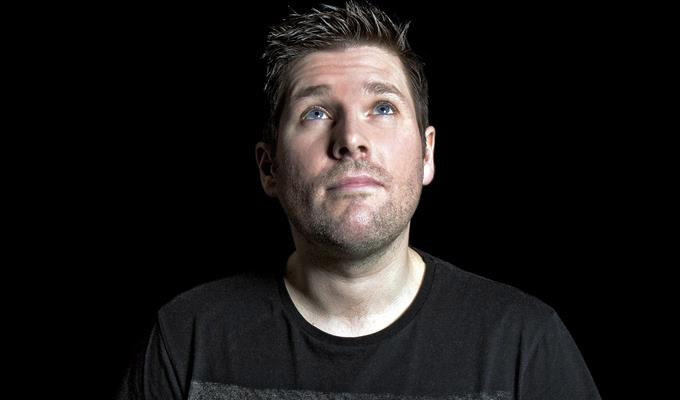 Mark Nelson: Once Upon A Time In The West
As a cynical Scot with a strong grip on current affairs who enjoys attacking politicians with witheringly grotesque dismissals of their physical appearance, Mark Nelson has plenty in common with Frankie Boyle.
But while he's drawn to the bleak and perverse – and can entertain any number of conspiracy theories about the Royal Family – he usually fights shy of Boyle's nihilism and desire to set fire to the world.
However the coronavirus, which has forced several cancellations at the Glasgow International Comedy Festival already, ensured that there was a slightly nervous, apocalyptic mood in the air for this hour, which Nelson surfed with considerable assurance.
The uproarious laughter that greeted an audience member being revealed as being from Italy, the European pandemic hotspot, was a gift – of sorts. But Nelson also kept the virus situation handy for humouring some disruptive elements in the front row.
Without extrapolating too much from a comedy gig, if this was any basis for how society will fare over the coming months, we'll be bonding over gallows humour, while nurturing some dark desires towards a few selfish idiots who are closer to mob reprisals than they realise.
For Nelson's part though, this was impressively topical. Referencing President Trump's press conference from just 30 minutes earlier, with a solid 10 minutes of gags about the crisis, he drew persuasive parallels between Boris Johnson's response to the pandemic and the Prime Minister's personal life.
That said, his scepticism fits with his jaded perspective on life generally. Reminding everyone of Brexit as a palate cleanser, softening the blow by recalling the relatively halcyon premierships of Theresa May and even Gordon Brown, Nelson tends to define the public with reference to the most extreme news stories, yet capably knits them together to make his points.
The likening of No Deal to his entreaties for anal sex for example, suggests sub-Boyle misogyny. But he knows what he's doing and subverts the laddism, without fully absolving himself of his baser lusts.
Meanwhile, as a father of two young children with a love-barely tolerate relationship with his wife and an expanded waistline, he has literally grown into the defeated, grumpy middle-aged man he's always threatened.
From his disappointment at the restrained behaviour of teenagers at music festivals and his throwing of comic Elliot Steel under the bus for his modern hook-up tactics, he establishes a nice tension between his contempt for the young and his envy of them.
He has little respect for anyone, but himself less than most. The depressing picture he paints of his marriage is emblematic of society's wider ills and fads, be they endless political referendums or Veganuary.
A character assassination of Michael Gove is clumsy and gratuitous. But he finds plenty of mileage in Prince Andrew's recent travails, indulging in some routine paedophile-related mischief, while finding fresh angles in The Firm's supposed WhatsApp group and Harry and Meghan's ostracism.
While there's no doubting a good nonce story gets his creative juices flowing and his final ten minutes are porn-fixated, Nelson is grubbily self-deprecating and incredulous at human depravity, rather than a showy edgelord.
He's intrigued by bigotry, as evidenced by the Islamophobia he recalls at a Portuguese water park, pushing his antagonist's twisted logic to its ludicrous end point, titillating with the dark subject matter but coming firmly down on the enlightened side.
So Once Upon A Time In The West is an evolving, flexible show from a seasoned, capable act, currently augmented, rather than inhibited, by the unusual times we find ourselves in.
Review date: 15 Mar 2020
Reviewed by: Jay Richardson
Reviewed at: Glasgow Stand
Recent Reviews
What do you think?