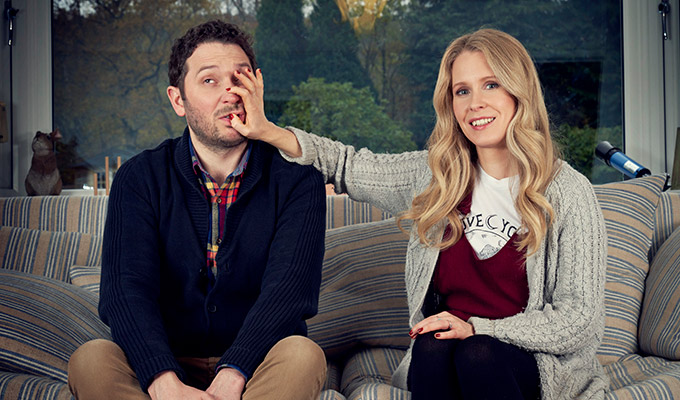 Meet The Richardsons
If you were looking for a British answer to Larry David, you could do worse than set-in-his-ways curmudgeon Jon Richardson.
And while Meet The Richardsons, a quasi-fictional account of his married life with fellow stand-up Lucy Beaumont, doesn't have the same degree of astringency as Curb Your Enthusiasm, it gets many a laugh from his misanthropy, born from a relatable irritation but writ large.
Interestingly, only Beaumont is credited as a writer (alongside Car Share's Tim Reid) so perhaps this her way of getting five years of marital gripes off her chest. She gets to berate him on screen for his cheapskate ways and mention the fact he's punching above his weight in their relationship, while portraying him as the sort of social misfit who would build a pub in his own garage – The Dog And Bastard – to avoid having to fraternise with other people.
That said, at a party thrown for the couple's three-year-old daughter Elsie, Beaumont's own mum introduces herself as 'Jon Richardson's mother-in-law' to bask in the reflected kudos of the (currently) more famous half of the partnership. So it's not all one-way.
The plotting of this first episode is a little thin, but its depiction of the niggling frustrations of married life – exacerbated by Richardson's exaggeratedly fogeyish persona – are spot-on, especially in the apparently improvised Modern Family-style sofa scenes where the couple dissect their relationship.
There's an almost prurient value to this as it feels like we're actually prying into the fault lines in their marriage. As the line between fact and fiction blurs, these feel like real points of contention, sometimes laughed off or given a sort of resolution but with a grit of something genuine. Stand-up is best when it's honest, and that ethos has been deployed here. But also maybe it's no coincidence that Richardson suffers from OCD – he likes to control his environment, so he's ended up with a scripted marriage.
Clips of actual TV appearances add to the uncertainty of where reality ends, and in this opener the couple agree to appear on a celebrity version of Mr and Mrs hosted by Richardson's ostensible nemesis, Rob Beckett. Though for a glitzy game show, this scene looks very cheap – as does the disaster that inevitably befalls Elsie's party in the picturesque West Yorkshire town of Hebden Bridge.
It is at that get-together where Jon encounters someone else to rub up the wrong way: comedy veteran Bernie Clifton, the silly entertainer that the too-careful Richardson could never be. But it's Jon who seems to have the older soul…
• Meet The Richardsons is on Dave at 10pm tonight
Review date: 27 Feb 2020
Reviewed by: Steve Bennett
What do you think?